In the footsteps of David Attenborough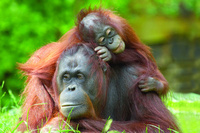 As of last week many of Sir David Attenborough's most memorable TV moments are available online for the first time ever – and if you feel inspired to follow in the footsteps of Britain's best-known wildlife filmmaker, World Expeditions offers a selection of trips all over the world where you can get up close and personal with some of the most amazing creatures on earth.

If you want to see lions go for: Tanzania Wildlife, Culture and Coast, 13 days
A safari ideally suited to those intent on viewing wildlife that would fill the screen of a National Geographic documentary. Through famous game parks and traditional villages, this journey provides the best of Africa's prolific wildlife and tribal culture while enjoying the essential safari experience. Staying in a wildlife lodge, you will venture into the Ngorongoro Crater (the world's largest volcanic caldera) and the Lake Manyara National Park – to view antelope, zebra, wildebeest, buffalo, giraffe, Black Rhino and large prides of lions. The experience is completed with a visit to Africa's 'Spice Island', to relax on the beautiful white sandy beaches of Zanzibar.
Price: from £2,050 per adult (£1,690 per child)
Next departures: 13 December, 27 December, 24 January, 21 February

If you want to see elephants go for: Botswana Elephant Trail, 15 days
Southern Africa's diverse and beautiful wilderness is showcased on this itinerary across Botswana, Namibia and Zambia. You will experience the legendary Okavango Delta (the world's largest inland delta), with its burgeoning wildlife-filled channels and islands. Travelling by traditional dugout canoe, you will float past elephants, zebras, buffalos and hippos, before visiting the semi-arid parks of Namibia that provide an alternative habitat for wildlife such as elephants and giraffes. The big game haunts of Moremi and Chobe are home to lions and cheetahs, but also provide another opportunity to see large herds of elephants in their natural environment. The journey is completed at Victoria Falls, one of the Seven Natural Wonders of the World.
Price: £1,795 per person
Next departures: 31 October, 28 November, 16 January, 6 February, 6 March, 3 April

If you want to see pandas go for: Pandas, Yangtze and Shanghai, 7 days
BBC presenter and conservationist Chris Packham may have called on wildlife groups to let giant pandas become extinct but how can you resist these cute, fluffy animals? There are fewer than 1,000 in the world, found only in certain Chinese provinces. This trip offers a unique opportunity to visit the world-renowned Panda Breeding Research Centre in Chengdu and its Giant Panda Museum, which is the world's only thematic museum for rare and endangered animal species. As part of this itinerary, you will also cruise the Yangtze River and visit the fascinating city of Shanghai.
Price: from £1,120 per person
Next departures: Departs daily year round

If you want to see orangutans go for: Borneo Adventure, 15 days
Experience Borneo's amazing wildlife on this exhilarating tour: your scenic walk through primary rainforest at Mulu National Park gets you to Deer Cave, the world's largest cave entrance… go on a river cruise down the Menangul River in search of monkeys... visit Turtle Island, where if you are lucky you will get to see the little turtles scampering down the beach and reaching their destination at sea… However, for most people the biggest highlight is the Sepilok Orang Utan Rehabilitation Centre, where you will watch the orangutans at feeding time. These almost human apes impress with their intelligent eyes, lovable offspring and athletic form as they swing through the trees!
Price: £1,620
Next departures: 15 February, 15 March, 5 April, 10 May, 31 May

If you want to see sea turtles go for: Best of Costa Rica, 8 days
The greenest country in the world, Costa Rica also boasts the largest percentage of protected areas in the world. On this trip, you will be led from the dense rainforest and beaches along the Caribbean coast to the cloud forests of the highlands. You will visit the canals of Tortuguero, renowned for the annual nesting of the endangered green turtle and the most important nesting site for this species… view impressive birdlife in Monteverde Cloud Forest Reserve, famous for its extremely high biodiversity… and admire the flawless silhouette of Arenal Volcano, Costa Rica's most active volcano, whose crater every night offers a spectacle of lights with its explosive eruptions.
Price: from £720 per person
Next departures: Departs daily year round

If you want to see penguins go for: Antarctic Explorer, 11 days
Witness prolific wildlife, dramatic landscapes and huge icebergs on a tour that is committed to maximising enjoyment without compromising the unspoiled natural world. Venturing onshore in small numbers, guests have optimum time to enjoy unforgettable walks surrounded by snow-capped peaks, giant tabular icebergs and crystal-blue seas. There will be spontaneous opportunities for wildlife encounters, such as whale watching and walking among penguin rookeries and seal colonies – all in the company of world-class naturalists whose informal but insightful lectures aim to enhance the exploration and understanding of one of the world's most spectacular and pristine environments.
Pricing: now US$5,841/£3,653 (was US$6,490/£4,058)
Next departures: 24 February

World Expeditions' all-inclusive policy ensures that there are no local payments. Prices quoted above do not include international flights, however these can be arranged on request. For bookings visit worldexpeditions.co.uk.