Iconic Greyhound coaches launch in the UK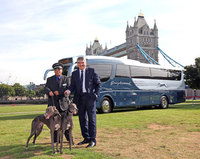 The UK's largest transport operator, FirstGroup has launched Greyhound coach services which will see the iconic American brand operating in the UK for the first time in its 95 year history.

Onboard features of the new coach service include leather seating, free wi-fi, air conditioning, free newspapers and up to 20% extra leg room - with 41 seats rather than the 50 typically operated by rival coach companies. Fares will start from £1 each way if booked online. The services will have kerb-side pick ups at a number of locations with non-stop journeys between cities. This will provide a journey time advantage of up to 40% over rival coach operators, whose services typically stop a number of times at intermediate locations.

Greyhound UK will initially launch coaches between London and to cities of Portsmouth and Southampton.

Greyhound USA

The legendary Greyhound coaches offer the only countrywide network of coach services in the USA and Canada. The US company was set up in Minnesota in 1914 by Carl Wickman, a Swedish immigrant. The coaches' grey livery led them to being nicknamed 'greyhounds' and the company took on the name in 1929.

Since then, the brand has become one of the most famous in the world and has been immortalised on the big screen including It Happened One Night (1934 - Clark Gable & Claudette Colbert); Midnight Cowboy (1969 – Jon Voight & Dustin Hoffman); Breakfast at Tiffany's (1961 – Audrey Hepburn, George Peppard); Sleepers (1996 - Robert De Niro & Kevin Bacon) and in popular pop and rock classics including Under the Boardwalk by The Drifters; New York State of Mind by Billy Joel; and America by Simon and Garfunkel.

FirstGroup is the leading transport operator in the UK and North America moving some 2.5 billion passengers every year. First is also Britain's largest bus and rail operator. First has been operating Greyhound in the US and Canada since October 2007 after buying its parent company Laidlaw International.

For more information, visit greyhounduk.com.