Drivers get their top choice at Luckings Ltd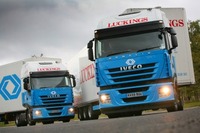 Iveco has secured an order for nine new low-height Stralis Active Space Super³ tractor units from Luckings Ltd, each of which is being supplied by Grays Truck Centre in Guildford.
The order marks the first Iveco vehicles to join the current fleet, which enjoys a high profile providing a specialist transport and warehousing service to the entertainment industry. Each of the new AS440S45T/FP-LT 4x2 tractors will operate with Schmitz Cargobull mega trailers, following a recent decision by the company to replace its step frames with trailers offering a continuous 10ft 6" load height throughout.
The arrival of the Stralis' follows a competitive appraisal which saw the company's drivers road test tractor units from three manufacturers.
Nick Dooner, owner of Luckings, explains: "The drivers loved the Stralis and voted it their top choice, giving special praise for the comfortable and spacious cab. That spoke volumes about how impressed they were, as trips to Russia or Greece are not uncommon for our drivers – they spend a lot of time away in their vehicles and know what makes a good truck. Our demonstrator also performed very well on fuel.
"The trial was our first experience of a Stralis and it reinforced my impression that Iveco has developed a strong heavy truck product – an opinion I'd previously based purely on the significant number I see across Europe," adds Dooner.
Another key factor in the company's decision to select the Stralis was Iveco's extensive European dealer network, which can provide consistently strong support wherever the company's new fleet may operate.
Inside the Stralis drivers will benefit from a vehicle featuring one of the largest high-roof premium cabs sold in the UK. It features an air-suspended seat with four separate comfort level settings as standard, together with 220mm of travel to suit even the tallest or shortest driver. And for relaxing at the end of the day, they get a choice of two large bunks measuring 746 x 2,020mm (lower) and 784 x 1,940mm (upper), offering high levels of comfort for a guaranteed good night's sleep.
The spacious cab is matched with ample storage, including a central compartment measuring a generous 450 x 780mm in size, coupled with large electronically operated external storage compartments for securely stowing personal belongings. Additional on board equipment includes air-conditioning, slide-out fridge, Eberspacher night heater, electrically operated roof-vent and windscreen blind, door roller blinds and smart black curtains to enclose the cab area – all as standard.
The nine new tractors are powered by Iveco's 10.3 litre Cursor 10 engine which meets the Enhanced Environmentally friendly Vehicle (EEV) standard. This level – which acts as a stepping stone between Euro 5 and Euro 6 – was originally intended as the appropriate benchmark for a CNG-powered vehicle and sets an even more exacting standard than Euro 5, with lower limits for all pollutants other than NOx.
Performance and fuel economy are identical to the previous Euro 5 engines, with each of the 450hp Cursor 10 engines being particularly suited to an economical driving style, with a peak torque of 2,100 Nm available at low engine speeds (1,050 to 1,550 rev/min). This helps to simplify hill starts with a full load, protecting the clutch and guaranteeing flexibility and quiet running.
The new Stralis' join a fleet of 50 tractor units and 150 trailers and are expected to remain on the fleet for up to seven years, covering between 100,000 and 120,000 km a year. They will be used across a range of prestigious contracts, supporting television production companies, theatre shows, exhibitions and major events. One of the firm's most high profile jobs so far in 2009 has included delivering 40 trailer loads into the West End of London, in preparation for the summer opening of 'Sister Act' at the London Palladium.