Gulf Air begins services to second Iraqi destination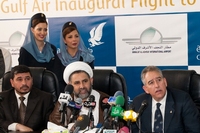 Gulf Air, the national carrier of Bahrain, has commenced a brand new four times weekly service to Najaf in Iraq. The arrival of the maiden flight into the Holy City of Najaf at the end of September takes the number of cities Gulf Air flies to in Iraq to two and the airline's total route network to 44 destinations in 29 countries.
The packed Gulf Air flight, operated by an Airbus 320 aircraft, carried a delegation of senior officials from Gulf Air as well as government, business, religious, diplomatic and media representatives and a number of guests. There were also Gulf Air customers on board, who were excited about the opportunity to visit such a historic city which has great religious significance in the Muslim world and also lies less than 30 kilometres from the ancient city of Babylon, with close proximity to other important holy cities including Kufa and Kerbala.
In a speech given prior to leaving on the inaugural flight Gulf Air Chief Executive Officer Mr Samer Majali said: "As we continue on our journey as the leading GCC carrier into Iraq, I am very proud to be on this flight to Najaf today. We have identified Iraq as a niche destination to which, building on our previous experience and knowledge of operating to the country, we can provide a trusted and important link to our customers and be their first choice when flying to the country based on excellent connectivity, value for money, and friendly service."
He continued: "A large number of pilgrims visit the sacred shrine of Imam Ali, the son-in-law of the Prophet Mohammad, in Najaf and other holy sites nearby each year. As Iraq continues to rebuild and prosper we envisage that Najaf will become a centre of religious and cultural tourism. The potential is enormous and as such we plan to increase the service from four times per week to daily as part of our 2009/2010 winter schedule from 26 October, by which time we will have received two of the 15 brand new A320 aircraft we have on order."
Gulf Air's four times weekly service will operate on Mondays, Wednesdays, Thursdays and Saturdays until 25 October after which it will go daily.
Gulf Air has planned its schedule to Najaf to compliment its extensive Middle East network as well as to provide excellent connections for key destinations on its route network in Asia and Europe.