SsangYong looks to the future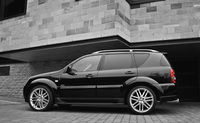 For the seventh month in succession, SsangYong increased sales in October over the same month last year. According to figures from the Society of Motor Manufacturers and Traders, 60 SsangYongs were registered last month – a 46.34 per cent improvement over October 2008.
This year to the end of October, SsangYong new passenger car registrations have hit 726, a 26.7 per cent improvement over 573 registrations in the same period last year. The South Korean make's performance is all the more creditable because it is one of only 10 manufacturers to show a sales increase so far this year in a market that it still over 12 per cent down.
Paul Williams, managing director of SsangYong importer Koelliker UK said: "Although we fully support the scrappage scheme, our range is not best placed to take advantage of it, and we have recorded only two scrappage deals. This year's performance is down to sheer hard work from our dealer network, and it shows that business is there if product can be matched to the right buyers. We have made solid progress through very difficult times and can now begin to plan for what I am sure will be an even better 2010."
SsangYong Motor confident of the future
Following a Court meeting of creditors in South Korea on November 6, the decision to approve SsangYong's restructuring plans have been delayed until the next meeting scheduled for December 11.
The delay was caused by only 41.2 per cent of non-collateral bondholders approving of the plans. Although this is disappointing, it was not totally unexpected. In fact, SsangYong Motor secured the backing of 100 per cent of shareholders (minimum requirement 50 per cent) and 99.75 per cent of guarantee/mortgage creditors (minimum required 66 per cent). Two thirds support is required from non-guarantee/mortgage creditors (bondholders).
Koelliker UK's Paul Williams said: "Most of these non-collateral bondholders are foreign corporations who will inevitably reject the first offer made in the hope of securing a better deal, and it looks as though this is what's happened. SsangYong will now negotiate with them, but in the end the Court has the option to ignore their requests and issue a compulsory performance order so that they are treated the same as other creditors.
"SY Motor and I are convinced that the Court will decide in favour of the recovery plan as it obviously has the backing of most creditors including the Korea Development Bank. Last week's Court's decision is frustrating, but we'll just have to be patient."
In February, the South Korean Court granted 'court receivership' status to SsangYong Motor (SYMC), paving the way for radical restructuring and the opportunity of forging a stronger and leaner company with a more diversified product range.
Court receivership is similar to US Chapter 11 status, giving SYMC protection from creditors and time to formulate and implement a corporate resuscitation plan. Under the new arrangements, the Court appointed former Hyundai Motor president Lee Yoo-il, and SYMC vice-president in charge of finance, Park Young-tae as co-legal administrators.
Like a huge number of UK businesses, companies around the world have had to deal with the fall-out of the international credit crunch, a drop in demand and even higher oil and energy prices. These factors have had a particularly damaging impact on automotive companies everywhere.
Despite a long-running and damaging industrial dispute in the summer, SsangYong has already made good progress in its restructuring, including the stripping out of significant cost. The company's breakeven point has been reduced from 10,500 cars a month to only 6,000. For the full year, SsangYong now expects to sell over 34,000 units – over 16 per cent better than previously forecast by Samil PricewaterhouseCoopers. The company is aiming for 85,000 sales in 2010 with new mid and small-size crossover models including the new C200 and yet to be revealed D200 and Q200.
There was more welcome news in September when SsangYong recorded its highest domestic and export sales of the year, with the new Chairman W luxury car is expected to achieve 1,000 sales a month. Plans for the company aim for profitability in about three years, but managers have suggested that this could be achieved earlier.
The company continues to be valued at 357.2 billion won (approximately $306 million) more than its liquidation value.
And in a big boost for SsangYong, the association of creditors, made up of close to 600 parts suppliers, said that the majority of its members had agreed to accept the company's plans. The association also made its position known to other creditors and the Court, and this was reflected in last week's court meeting.
Paul Williams commented: "Of course, the search is now on for a buyer or investors in SsangYong, and this will take some time. But the company is now much more confident about the future and can now forge ahead with new model introductions with a much more stable company. The future is now looking much brighter than just a few months ago and I am very encouraged by the latest news from Korea."