More homes available through HomeBuy Direct at Hawthorn Meadows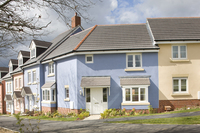 Barratt's Hawthorn Meadows development in Whippingham is celebrating after receiving the go-ahead to offer eight new homes under the government's HomeBuy Direct initiative.
"This major government scheme allows first-time buyers, key workers and others with housing needs to buy a brand new home for as little as 70 per cent of the purchase price, so at Hawthorn Meadows you could purchase a three bedroom house for as little as £128,100" reports Mark Docherty, Barratt sales director.
"We are delighted to have secured additional homes under the HomeBuy Direct scheme, it's perfect for people who have been priced out of the housing market for years and can take advantage of this outstanding opportunity to buy a new home. The 30 per cent equity loan from ourselves and the government means that, in many cases, they don't even need to have a deposit."
"As an added incentive, those who are eligible can buy a home with one extra bedroom, so a couple with a child could secure a three-bedroom, rather than a two-bedroom house at a greatly reduced price," concluded Mark.
David Edwards, HCA regional director for the South East, said: "In the current climate it's important that we help a range of people to find the best housing option to suit them, and simultaneously help stimulate the building of new homes. HomeBuy Direct, with our £400 million investment, is just one way in which we're doing this and it is proving extremely popular."
The scheme is open to first-time buyers, key workers and others who are currently renting. People who have previously owned a home but are now unable to do so – perhaps where relationships have broken down – can also apply.
Households eligible will have an income of less than £60,000 and would not normally be able to afford to buy a suitable property on the open market. There is no interest to pay on the equity stake for the first five years, although a small fee will be charged from year six onwards.
Buyers can redeem the loan in instalments, purchasing up to 100 per cent of the equity after their initial purchase by buying additional equity at the market rate. Alternatively, if they sell their home, the equity loan is repaid by way of a proportionate share of the sale proceeds.
Hawthorn Meadows enjoys a rural setting on the Isle of Wight and the village of Whippingham has strong links with royalty. It is only a five-minute walk to Osborne House, Queen Victoria's summer home.
The development also nestles near the River Medina and a local mooring site and, because it lies on the eastern edge of Cowes, offers the perfect retreat for yachting enthusiasts. There is easy access to the rest of the island and to the mainland.
For further details, log on to Barratthomes.co.uk.