Häagen-Dazs brings festive cheer to Leicester Square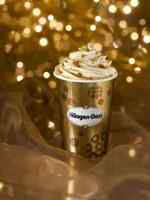 The Häagen-Dazs shop will offer visitors to Leicester Square delicious hot Christmas drinks for free next Tuesday, 24th November, to mark the launch of its partnership with Make-A-Wish Foundation UK and help the charity grant magical wishes this Christmas.

Complimentary samples of Italian Christmas Latte and Cinnamon Dulce Dream will be handed out from 12.00 midday to 1.00pm in exchange for donations to Make-A-Wish, which makes wishes come true for children and young people fighting life-threatening illnesses.

Häagen-Dazs will also bring some winter magic to Leicester Square with a snow blizzard, created from biodegradable environmentally friendly material, and the shop will be transformed for the season with Christmas decorations.

The new festive drinks will be available from a special Christmas menu at the luxury ice cream shop, along with two new limited edition ice cream creations – Italian Christmas Sparkle and Caramel Waffle Wish – from 24th November until 31st December.

Made from scoops of the highest quality ice cream, such as Dulce de Leche and Caramel Biscuit & Cream, the new creations will offer a heart-warming taste of Christmas. Häagen-Dazs will donate £1 to Make-A-Wish every time its customers buy one of the specially created products.

There are currently 20,000 children and young people in the UK fighting a life-threatening illness. Next year around 1,000 children will turn to Make-A-Wish to experience the magic of a Make-A-Wish wish. Häagen-Dazs Leicester Square aims to raise as much money as possible through the sale of the festive recipes, as well as through various fundraising activity undertaken by staff to help Make-A-Wish grant these magical wishes.

Rebecca Jones, Corporate Account Manager for Make-A-Wish, said: "We are absolutely delighted to have been chosen as Häagen-Dazs's charity partner this Christmas. We believe a wish can transform a child's life and are constantly seeking support to continue granting wishes. I would like to say a huge thank you to Häagen-Dazs, and their customers, for all their kind support".

Philip Misan, Häagen-Dazs Leicester Square Shop Manager said: "We have been deeply touched by the work that Make-A-Wish does to help bring happiness into the lives of so many children and young people.

"We really hope that our festive recipes will be a big hit with ice cream lovers and in turn really make a difference to the charity – helping it grant even more wonderful wishes next year."

Italian Christmas Latte and Cinnamon Dulce Dream cost £5.10 to take-away and £5.95 when enjoyed at the shop and Italian Christmas Sparkle and Caramel Waffle Wish cost £5.80 to take-away and £7.10 at the shop.