Ryanair announces expansion at Liverpool John Lennon Airport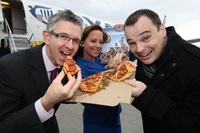 Ryanair has announced that it will add two new Boeing 737-800 aircraft to its existing fleet of six aircraft at Liverpool John Lennon Airport (JLA) and open three new routes, taking their total number of destinations to 44 in total from March 2010. Ryanair's investment in Liverpool of eight aircraft is now worth over $560 million.

The three new routes from Liverpool are to Rimini on the Italian east coast, Trapini on the west coast of the Italian island of Sicily and Lodz in Poland. In addition the airline will also increase frequencies on existing services to Faro, Krakow, Poznan and Wroclaw. These latest Ryanair developments are expected to bring Ryanair's annual passenger traffic at Liverpool to over 2.5 million sustaining thousands of local jobs at the airport and across the region.

The additional services mean that Liverpool serves seven Italian destinations and is now one of the UK's leading gateways to Italy outside of London.

Neil Pakey, Deputy CEO of Peel Airports said, "Today's news further confirms Ryanair's commitment to the region, continuing to give North West passengers a greater choice of services at some of the most competitive fares. For example, Liverpool now serves more Italian destinations than almost all other UK regional airports thanks to today's news. You could say 'That's amore' than we've ever had flying from here before!

"During difficult economic conditions the retention of air services and the introduction of new links from Ryanair, is crucial for international connectivity and trade with Liverpool and the North West, as well as a boost for the region's international tourism industry."

Dara Brady, Deputy Head of Sales and Marketing – Europe, for Ryanair commented, "Liverpool today celebrates its 7th and 8th Ryanair aircraft and 3 new routes from March 2010. These new flights go on sale tomorrow. With a total of 44 low fare routes from Liverpool this summer travellers in the North West can beat the recession by choosing Ryanair's guaranteed lowest fares and no fuel surcharges to exciting destinations all over Europe. Ryanair's 2.5 million passengers will sustain 2,500 jobs locally in Liverpool in 2010."

Ryanair celebrated the announcement of this further expansion of its Liverpool base, by releasing one million £1 seats for travel across its European network from mid December until the end of January which are available for booking until midnight on Friday 20th November at ryanair.com. Seats on the new routes from Liverpool are available from £39 for booking until midnight Friday 27th November for travel until May 2010.