Buyers take root at garden apartments in Leith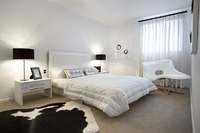 Award-winning housebuilder, Miller Homes, is urging buyers to 'take root' at its increasingly popular Bonnington site in Leith, Edinburgh, where they can secure one of the company's distinctive 'garden apartments'.

Newly released and a truly unique find within the current property market, Bonnington's 'garden apartments' are all south facing. The mix of one and two-bedroom properties offer all the benefits that come from living in an inner city pad, with the advantage of having a beautiful garden space to catch up on some well deserved rest and relaxation.

Anne Marie Britton, sales director for Miller Homes Scotland (Ltd) said, "When people begin looking for an apartment, they have generally accepted the fact that they will be sacrificing a garden. But that's not the case with us. With Bonnington, we've moved away from the status quo, and made our homes different from what's already out there.

"What's more, at Bonnington, we're providing buyers with the opportunity to capitalise on our widely celebrated MiWay initiative, which allows them to pay just 80% of the property price now, and 20% later*."

Under this scheme, buyers pay nothing on a loan provided by Miller Homes for up to 10 years. After 10 years, or when they sell or transfer their home, the buyer simply pays back the 20% of their home's market value at that time.

To cope with high demand, Miller launched Bonnington's new phase well ahead of schedule. Currently available is a cool mix of one, two-bedroom properties, including some of the garden apartments, as well as three-bedroom plots.

Designed with the busy urban professional in mind, all of Miller Homes' Bonnington city apartments combine modern design with slick layouts, features that are perfectly demonstrated in Plot 88.

This striking two-bedroom property has plenty to offer in the way of impressive benefits, such as the large living and dining area, which is further complemented by French windows that open on to a Juliet balcony. Priced at £176,000, plot 88 is available for an enviable £140,800 with MiWay.

Bonnington is one of Edinburgh's most convenient locations. It has the dual appeal of being within a short walk to the cosmopolitan shops and fashionable restaurants of both Leith and the city centre; while a choice of leisure and health clubs are also within easy reach, including the Virgin Active Health Club in the Omni Centre.

Also, for those residents who want to enjoy a vibrant nightlife as well as extensive art and culture pursuits, but who don't want the inconvenience of city centre parking - a frequent bus service operates near Bonnington, providing fast access to the hub of the capital.

And for those buyers who don't have 'green fingers' and want to soak up traditional apartment living, there is also a selection of stunning properties at Miller Homes' Varcity development in the sought after Fettes area of the capital.

Offering a fashionable collection of one, two and three bedroom apartments, penthouses and duplexes, Varcity is a must see for those looking for sophisticated style with a comparatively low price tag.

As Miller Homes' best selling site in Scotland, Varcity continues to go from strength to strength with the recent release of phase two - Drumsheugh Campus. A range of two-bedroom apartments are currently available, including plot 168 – a striking property priced at £198,000 or only £158,400 with MiWay. This superb home includes a number of attractive features, such as the en-suite master-bedroom, allocated underground parking and a video entry system for added security.

For further information on both developments, visit millerhomes.co.uk.