Get clicking to the best beauty buys online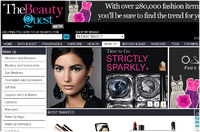 A must for all lovers and beauty buyers and bargain hunters - a new website has just launched which is going to make your search for the latest mascara or luscious lipstick a whole lot prettier.

Whether you're on a quest for the best 2-for-1 hair care items, looking to see where to get free delivery on a favourite fragrance or just hunting for online beauty offers, the launch of revolutionary site, thebeautyquest.co.uk can help. The Beauty Quest is the UK's most comprehensive online health and beauty experience ever and is set to change the face of beauty retail for good.

The Beauty Quest, the UK's first online health and beauty comparison shopping site. It enables you to search, find, compare, read, review and shop - all at one convenient location. The shopping area is home to the most comprehensive and extensive range of health and beauty brands found anywhere online. You'll find over 75,000 items from your favourite high street stores including Boots and John Lewis and online specialist boutiques such as John and Ginger and Feel Unique.

This much awaited sister site of Osoyou.com offers plenty of interaction too - with tips and video tutorials from leading industry experts, celebrities and make-up artists. Check out this week's "Red Hot Hit List for Lips", select from the "Seasonal Guide to Scents" or choose from the "Top Ten Mascaras for Miracle Lashes" You'll also find a large online community of beauty ambassadors giving a continual stream of fresh editorial on the Beauty Quest Blog.