Significant fleet investment continues for EH Nicholls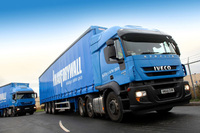 Sittingbourne-based family haulier EH Nicholls has taken delivery of five new Stralis Active Time tractor units to operate on a new contract won by fellow Kent-based haulier Alan Firmin. Together, the two firms will distribute plasterboard from Knauf's plasterboard manufacturing facility in Sittingbourne.
Supplied by Haynes Trucks, the new AT440S45TX/P 6x2 twin steer tractor units have been painted in Knauf's distinctive blue livery and will operate with matching new Montracon tautliner trailers. They join a further five Stralis AT's delivered in the first half of 2009, along with 25 new trailers, which are operating in EH Nicholls' traditional red livery. Together, these deliveries increase the company's fleet to 46 tractor units and 125 trailers.
Paul Nicholls, Managing Director of EH Nicholls, says: "It's a tough climate for everyone in road transport right now, but we're continuing to modernise our fleet. These five latest Stralis' are amongst the first tractor units in the UK to meet the Enhanced Environmentally friendly Vehicle (EEV) emissions level, which is an intermediate step between Euro 5 and 6."
The EEV standard (originally developed as the appropriate level for a CNG-powered vehicle) sets an even more exacting standard than Euro 5, with lower limits for all pollutants other than NOx. Available across Iveco's truck range, the EEV engines offer the same fuel consumption as their Euro 5 predecessors, with the added advantage of helping to 'future proof' vehicles even further from possible changes in Low Emission Zone requirements.
EH Nicholls standardised on the Iveco Stralis for new fleet purchases after trialling a demonstrator two years ago and then electing to purchase a second-hand model for an extended trial.
Nicholls explains: "We're a traditional haulier with our own workshops, so one of our most important considerations when looking at new vehicles is whether we can service them ourselves. The second-hand Stralis performed well on the road and was popular with our drivers – plus the workshop gave it the thumbs up too.
"We do the majority of our maintenance in-house, and Haynes Trucks provide support when we need to plug an Iveco diagnostics computer into one of the vehicles. They also supply us with OEM parts, backed up by a sameday delivery service and competitive pricing," he adds.
Each of the new vehicles has been fitted with a Fleetwood Blueshpere telematics system, which connects through Iveco's on-board Fleet Management System (FMS) interface. The FMS is included in all new Stralis' as standard, allowing full connectivity with aftermarket telematics systems without the need to specify additional factory-fitted options at extra cost.
Like all Stralis AT tractor units, the five new vehicles are purpose-built for medium to long-haul missions and offer ample storage space, double bunks and a central internal height of 1.82 m to ensure the driver has plenty of room to stand up. The driving position also includes an air-suspended heated seat with lumbar support which adjusts for reach, height and rake.
Power is provided by a powerful 10.3 litre Cursor 10 EEV engine which is capable of producing up to 450 hp between 1,550 and 2,100 rev/min and up to 2,100 Nm of torque between 1,050 and 1,550 rev/min. Driven through a 12-speed automated EuroTronic gearbox, it offers an impressive combination of performance, economy and driveability, with the gear change controls incorporated into the dashboard and right-hand steering column stalk to ensure the best possible cab ergonomics.
The vehicles will be split between single and multi-shifting, covering between 120,000 and 240,000 km a year, and are expected to remain in service with the company for up to ten years.
The geographic location of the EH Nicholls fleet means vehicles routinely operate into mainland Europe, predominantly through France, Brussels and Holland. The company estimates that 25 per cent of its fleet is on the Continent at any one time, with 1,000 channel crossings routinely clocked up every month.