Infiniti G37 Saloon enhanced for 2010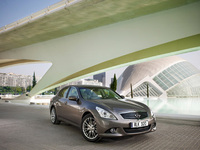 A more dynamic look and revised interior, with state-of-the-art infotainment technology available, take the Infiniti G37 Saloon into a new decade with more presence and quality than ever. Announced today, the 2010 version of Infiniti's lead-in sports model for Europe remains just as potent, poised and well equipped as before, but benefits from enhancements that bring it into line with other Infiniti models as well as responding to feedback from Infiniti owners.
The changes are subtle but effective – as one glance at the sharper new front-end styling reveals. More sculptural, more distinctive and more indicative of the 320 PS (316 bhp) under the bonnet of every G37, the new look moves the Saloon visually closer to its sportier two-door cousin, the G37 Coupe.
New front light clusters – still with bi-Xenon adaptive cornering headlights as standard – and a fresh-looking iteration of the familiar double-arch Infiniti grille are the main component changes, proving the rightness of the original design. A redesigned under-bumper section with recessed, wide-set foglights (previously the fogs were set into the main light clusters) gives the 2010 G37 Saloon a more purposeful edge to its already striking visual impact.
The rest of the G37 Saloon's body is untouched. Which is good news for fans of its trademark long bonnet, raked-back A pillars and athletic stance that projects power and grace in equal measure.
Changes in the cabin are just as subtle but equally tailored to meeting owners' expectations. For instance, the Rosewood interior accents are now high gloss, the leather hues slightly lighter and there's the option of a new a new Wheat leather colour combined with a black dashboard and upper door trims. Reinforcing the G37's impression of quality is a new aluminium trim design, reminiscent of Japanese calligraphy, along with a redesigned centre console based on that in the EX and FX crossovers. Improving both legibility and design cohesiveness, the gauges and LCD instrument display now use white as background colour.
For the first time, Infiniti's much-praised information and entertainment platform, Connectiviti, is available in the Saloon following on from its G37 debut in the Convertible earlier in the year.
Notable for its all-embracing functionality and user-friendliness, the HDD (hard disk drive) based system connects all manner of modern technology, from MP3 players to mobile phones, with seamless efficiency. Connectiviti+ takes things a stage further with a 30GB Music Box and innovative satellite navigation system which, among its long list of functions, can even access built-in Michelin's Red and Green Guides to take you to the door of a top restaurant or hotel.
Three new exterior colours are available for 2010 models: Smokey Quartz, Graphite Shadow and Vibrant Red. All are Scratch-shield paint, of course. Other features unique to the G37 Saloon are its charismatic V6 with VVEL valve technology and its chassis options of rear-wheel drive, four-wheel drive and four-wheel steer for the most sporting S version.
Pricing and specification of the 2010 G37 Saloon will be confirmed early in the new year prior to sales beginning in the spring.