Eurocargo trio continues Mainland's 100 per cent Iveco fleet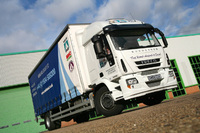 Northampton-based Pall-Ex member Mainland Group has taken delivery of three new Iveco Eurocargo rigids, maintaining its 100 per cent loyalty to the Iveco brand.
The order comprises two 18 tonne Eurocargo 180E25S's with high roof sleeper cabs, plus a single 7.5 tonne Eurocargo 75E16S with a day cab – each fitted with a curtainside body and tail-lift. Expected to cover up to 130,000 km a year, the vehicles have been supplied by Stormont Truck & Van on a four year repair and maintenance contract. They will be joined early in 2010 by five new Daily 35S12 vans, together with a further three Eurocargo 75E16S's and two Eurocargo 180E25's.
Mike Bacon, Managing Director of Mainland Group, says: "We're very happy with the Eurocargo and it forms the core of the fleet. Both the 18 and 7.5 tonners return competitive fuel consumptions and are consistently reliable hard working fleet performers. The fact our fleet is entirely made up of Iveco's speaks volumes about our confidence in the marque and the competitiveness of their whole life costs.
"As every haulier knows, good dealer back-up is critical and in Stormont Truck & Van we have a first rate partner, supported by a strong Iveco network throughout the UK," he adds.
Stormont Truck & Van's commitment to Mainland Group extends to having one of its mobile technicians at the customer's site each morning from 5am, to inspect every vehicle with the driver before they start their daily deliveries. The Stormont technician assists with everything from topping up AdBlue and oil levels through to changing tyres if a puncture is detected. They play a core role in ensuring that every one of the company's 56 commercial vehicles leaves the Northampton base on time.
The new Eurocargos join a fleet which ranges from 3.5 tonne Dailys up to 44 tonne Stralis 6x2 tractor units. They will be used primarily for retail distribution, in operation six days a week, and are being fitted with a VeriLocation satellite tracking and CANbus telematics system as part of a fleet-wide roll-out.
Each of the three new vehicles benefit from Iveco's EuroTronic automated gearbox as standard, joining two 18 tonners which were delivered earlier in the year with the same transmission.
"Our Eurocargos spend a lot of time carrying out deliveries in urban areas, so the two-pedal set-up makes driving more comfortable and safer for our drivers, since routine traffic congestion means stop/start driving is commonplace. The automated gearbox also eliminates the risk of over-revving the engine and ensures the truck is always in the right gear, helping to prolong clutch life," explains Mr Bacon.
Power is provided by Euro 5 engines, with the 18 tonne vehicles developing 251 hp at 2,700 rev/min and up to 850 Nm of torque between 1,250 and 2,100 rev/min from their identical 5.88 litre tector engines.
The 7.5 tonner uses a 3.92 litre tector engine to produce 160 hp at 2,700 rev/min and up to 530 Nm of torque between 1,200 and 2,100 rev/min. To meet the current Euro 5 emissions regulations they are each fitted with a 25 litre urea tank, AdBlue dosing system and catalytic converter.