Phuket hosts first raw food workshop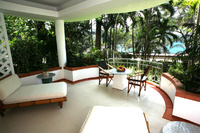 Raw food doesn't have to mean carrot and celery sticks. A new kind of raw gourmet food is gaining popularity for its unrivalled health benefits including weight loss and anti-aging. Celebrities including Demi Moore and Donna Karan have also adopted a raw food diet.

Mom Tri's Villa Royale is pleased to announce the first raw food workshop in Phuket. The half-day workshop will feature celebrity raw food chef and author Ani Phyo, demonstrating 6 recipes adapted for Thailand and using ingredients available here. Participants will also be able to sample the delicious creations.

The workshop will take place at Mom Tri's Villa Royale in Kata Noi, Phuket on January 24, 2010 and take place from 13:00 -17:00 hrs.

Recipes will include 6 raw, healthy, guilt-free dishes. Featured dishes are to be announced pending availability of ingredients.

Price per person is 800 THB for advance booking and 1000THB the day of the event.

Space is limited and advance booking is strongly recommended. You can come by Villa Royale and pay cash directly or book your spot by bank transfer. Alternatively you can reserve a spot with a credit card.

Visit villaroyalephuket.com for more information.

Ani has written 2 books on raw food and is an award winning chef. For more info about Ani Phyo and recipes visit aniphyo.com. She will also have a limited number of copies of Ani's Raw Food Desserts 85 Easy, Delectable Sweets and Treats available for purchase, reservations for signed copies are being accepted.