Love is in the air with ARK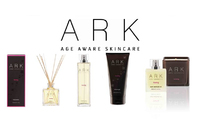 New, exclusive, sensual and sophisticated, ARK's Home Aromatics Loving range put's love in the air through it's unique combination of therapeutic aromatherapy oils.

The aromas create an uplifting, loving and cosy ambiance in your home and the perfect excuse not to venture out on a grey and miserable February day. The range includes a romantic room spray, luxurious candle, room diffuser, sumptuous shower gel, bath & body oil and a beautifying body butter.

Using pure essential oils, the Loving range exudes a scent that is creamy-sweet, encapsulating the floral heart of Rose, Jasmine and Orange Flower with a hint of green and soft citrus notes in Mandarin, Lemon and Patchouli, peppered with Cinnamon, Clove and Bay spices. Precious woods and resins of Rosewood, Labdanum, Frankincense and Myrrh envelop you in an emotionally warming glow.

The luxurious Body Butter and Shower Gel will blanket you in a scent of fruits and flowers, adding a touch of romance to you and your bathroom. Take a soak in the bath with a Loving Candle alongside and combine with the soothing Loving Bath and Body Oil. This exotic oil can be used in the bath, shower or as a leave-on body oil allowing your body to sink deeper into relaxation with its sweet and mesmerizing aromas.

Available online at arkskincare.com and from the new flagship store, 26 Kensington Church Street, London W8 4EP.

Also available at ARK's 4 Skincare Centres in Wimbledon, Putney, Fulham & Holland Park.