Male Profile Pics - Lose the Shirt and Lose Matches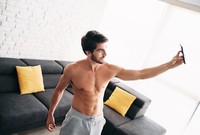 According to recent polls on dating apps, it is becoming increasingly clear that women prefer covered bodies to shirtless ones. This is particularly the case regarding profile pictures where men believe they will earn points if they go shirtless. It turns out that could not be further from the truth as ladies like things covered up. You will have plenty of opportunities to showcase what is underneath the shirt.
When men choose to upload shirtless pictures they have different motivations. Most guys are seeking attention while others may be unaware of their intentions. Whether you seek a Ukrainian mail-order bride or are hoping to meet someone local, going shirtless might be disadvantageous.
While men seem to believe these photos make them more attractive, polls show a decrease in matches of twenty percent or more. There is less likelihood that a female will contact you for a serious relationship if you decided a shirtless picture was the way to go. Here are a few reasons ladies are likely to swipe through after seeing shirtless profile pictures.
1. Juvenile
Ladies are referring to such looks as juvenile because that's the mindset a youngster would have. When teenagers decide to go shirtless, it is for the ladies. Jocks and shallow dudes alike have nothing to offer but their bodies. When their physical attributes aren't up to par, they don't dig deeper to offer what's innate. Instead, they hit the gym to get bigger biceps. Thus, profile pictures of shirtless men show people with little to nothing of substance to offer.
2. Self-awareness
Lack of self-awareness is rife everywhere, not only among youth. Older men can be less aware of who they are similar to teens, or worse. This lack of self-knowledge can also be attached to low self-esteem. Combining these traits brings out a need for attention. It means, again, that someone has less knowledge of self and what else they can offer. If a lady sees such photos, she might be seeing a boy in a man's body. Essentially, they would rather not date or deal with someone who still has a lot of growing up to do.
3. Productivity
Chances are with ripped abs and the super muscular body you shared, you spend ample time at the gym. This extra time translates to less productive hours at work, in business, and even in relationships. A lady needs quality time, maybe even support at her business or company as she visits family and friends. Any guy hitting on her with shirtless pictures probably wants her to ogle at him at the gym.
4. Hookups
A few women claim they would still consider contacting these shirtless dudes. This might be a plus for the guy who only needs a hookup. Incidentally, the number of ladies who would request these hookups is quite small. Though many men wouldn't mind getting contacted for flings only, the number of women who would is small – still not enough to justify going shirtless buddy. Fundamentally, if you are hoping to land serious relationships, it is well-advised that you keep the shirts on.
Bottom Line
Check out the portfolio you plan to upload and revisit the idea of uploading shirtless profile pictures. Sending these photos via messaging should be reconsidered too. Unless a lady requests such photos, it still doesn't sit well as a form of connecting and planning a date. Keep things tightly tucked in, including the flannel shirt you plan to wear. To keep things minimal, try a polo tee for instance. You cannot go wrong rocking a polo t-shirt.