Elliott Brothers builds bigger and better fleet with Iveco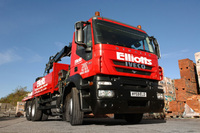 Hampshire's largest independent builders merchant, Elliott Brothers, has taken delivery of four new Iveco Stralis Active Day 26 tonne rear-steering rigids to join its 27-strong truck fleet delivering building supplies across the county.
The arrival of the four Stralis AD260S31Y/FS-D 6x2s continues a trend which began in 2006 when the company started to replace its older 18 tonne vehicles with new 26 tonners. The four new trucks join a further nine Stralis' already in service, confirming Iveco as the dominant brand in the company's mixed commercial vehicle fleet.
Each of the new vehicles, supplied by Hendy Van & Truck, has been factory-built with front air suspension and axle weight indicators, allowing the driver to know the exact weight over every axle – particularly useful for applications involving the multi-drop of heavy products.
"It's an essential piece of kit to have on our trucks, but we'd previously always had it installed by an aftermarket supplier," says Tony Adams, Commercial Director of Elliott Brothers. "By choosing to have it factory-fitted, we got the load weight indicators and front air suspension for the same price we used to pay to fit the load weight indicators alone. What's more, since they are installed on the factory line it means they are covered by the eight year Iveco Elements repair & maintenance agreement we have taken out with Hendy."
The company's move to operating 26 tonne vehicles has been driven by the requirement to maximise vehicle productivity. Adams explains: "A 26 tonner can be driven by the same person who drove the old 18 tonne vehicles, yet the payload potential is nearly double. This increases productivity as less time is spent going to and from the branch, making our fleet more fuel efficient and lowering our carbon footprint. Factor in the rear-steering axle on the larger Stralis, which makes them more agile than any 18 tonner in our fleet, and its a win-win situation. What's more, as building sites are increasingly jammed into more restricted areas, the rear-steer axle ensures we can always deliver. The turning circle is fantastic."
The four Stralis' have each been mounted with a dropside body, together with a HIAB XS crane and rear parking sensors to ensure maximum safety when the vehicle is reversing. The trucks will be spread across different sites within Elliott's network of ten branches, typically operating five days a week within a 25 mile radius and expected to cover up to 25,000 miles a year.
Finished in a striking red livery, the Stralis' are powered by Iveco's 7.8 litre Euro 5 Cursor 8 engine, which is capable of producing 310 hp between 1,675 and 2,400 rev/min, and up to 1,300 Nm of torque between 1,200 and 1,675 rev/min. The engine is driven through Iveco's automated EuroTronic gearbox which offers either fully or semi-automated shifts. This helps to provide a safer and more comfortable driving experience as the driver can give the road ahead his maximum concentration, rather than having to worry about changing gear.
A popular model amongst builder's merchants and construction companies, the Stralis AD is built specifically for short-haul transportation roles, but allows drivers to enjoy the same comfortable air-suspended seat as the flagship Active Space (AS) range. Its cab is ergonomically designed to ensure all important information, warning lights and controls are grouped on the instrument binnacle, the steering wheel and its stalks, enabling the driver to control the decompression engine brake, hydraulic retarder, radio and cruise control without taking their hands off the steering wheel.
Elliott Brothers' agreement with Hendy Van & Truck includes a mid-life refurbishment and re-spray of the chassis and body, to ensure the vehicles continue to portray a smart and professional appearance on the road throughout their projected eight year life on the fleet. It also allows for all scheduled servicing and maintenance to take place during evenings and weekends, ensuring the trucks are on the road when the company needs them.