Scottish buyers make Vauxhall pop during 2009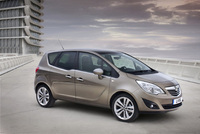 Vauxhall has yet again clinched the mantle of Scotland's best-selling car manufacturer in 2009, continuing its market dominance north of the border for the third year in a row.
The Corsa supermini has led Vauxhall's charge in Scotland, out-selling all other cars for the second consecutive year with sales of 13,150 – nearly 2,000 units above its nearest rival.
"We are delighted to be Scotland's biggest selling car manufacturer, and also buoyed by the Corsa's dominance in what is a highly important market for us," said Rory Harvey, Vauxhall's Sales Director.
While Vauxhall led the Scottish market with 15.7 per cent of sales during 2009, the company is keen to build on this still further this year with a raft of all new models.
Leading the march will be the all-new, British-built Astra, which entered Scottish showrooms last month and is already proving highly popular with buyers with its combination of premium design, class-leading technology and competitive pricing. Initially available as a five-door hatch (Estate and three-door Sport Hatch continue on the existing platform), a new estate, known as the Sports Tourer, will be available later in the year.
But Vauxhall's most significant news for 2010 will be the new Meriva compact MPV, which goes on sale in June. With its clever, rear-hinged back doors which radically improve access/egress, and a variety of unique cabin features that boost interior versatility, the 2010 Meriva is all set to turn the conventional concept of family car usability on its head.
Vauxhall's Scottish sales success was supplemented by a huge growth in its retail sales throughout the UK, with last November and December yielding 128 per cent and 54 per cent growth respectively, year on year.