Adventurous kids welcome at Olarro, Kenya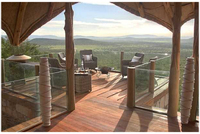 The exclusive new Olarro Lodge in Kenya has introduced an adventurous Kids Club to appeal to their younger guests.

The Olarro Juniors Adventurers Club (O.J.A.C) creates programmes that are full of bush adventures and give the adventurers a unique insight into the local Maasai traditions and lifestyle.

A fully qualified Maasai guide will take the children on hikes in the Loita hills and teach them traditional methods of how the warriors survive in the harsh tribal lands. The adventurers learn crucial bush survival techniques such as how to light a fire without the use of modern methods using sticks and dried animal dung, learning about different animal spores and dung and how to track the animals, make and shoot a bow and arrow and constructing a traditional bush shelter. They are shown a range of medicinal uses for indigenous trees and shrubs in an entertaining yet educational manner. These include the toothbrush tree, wet wipe tree, poison arrow tree, upset tummy shrub, antiseptic and disinfectant shrub and the chewing gum tree! The guide will also explain the traditional methods that the Maasai use without compromising their environment.

The Club is suitable for children as young as six years old although parental presence is recommended to help ensure children drink plenty of water along the way, reapply their sun cream and keep themselves protected from the African sun.

There is a delicious children's menu so little ones will be excited to get back to the ranch and tuck in. With each hike designed to leave the children feeling invigorated yet tired from all the fresh air, exercise and education, plus a full belly of food - a good night's sleep is guaranteed! This also enables a relaxing evening for the parents to enjoy Olarro's first class cuisine in peace. For those more energetic children still requiring entertainment Olarro can arrange more relaxed games such as Jenga (the Swahili word for 'build') back at camp.

Children over 12 and adults can enjoy unique night drives with the use of night-vision binoculars. This minimises the disturbance to the natural behaviour of wildlife and allows guests a clear view of strictly nocturnal animals. These night vision binoculars offer the chance to see two of the most magnificent of predators, the Leopard and Lion, at their most active and most interesting hunting and catching prey rather than lying under a shady tree by day.

At the end of the children's stay, Olarro provides a fun questionnaire and a "diploma certificate" for the O.J.A.C members to complete which is followed by the presentation of their certificate, providing a lasting memory of their stay and achievements.

Olarro is artistically built with undulating curves mimicking the rolling hillside in which the lodge is situated. Blending effortlessly into the surroundings the lodge comprises of seven uniquely different cottages, of which six are co-joined through a common sitting area. This is an ideal "private spot" where families have the opportunity to socialise and relax in relative privacy. The expansive deck with 180 degree views overlooking this pristine area of Africa is the perfect location to enjoy sundowners. The split level swimming pool offers a refreshing dip and the mini spa is ideal for adults looking for holiday indulgence.

Little Olarro is a private house that offers extra privacy and seclusion for families with a luxury suite and master bedroom, smaller twin bedroom, lounge, dining area and veranda all again with spectacular views over the Loita plains. Little Olarro also has its own entrance, private kitchen and deck area and private game drives.

For more information and reservations, visit olarrokenya.com.