Banish winter blues with sun and sport in North Cyprus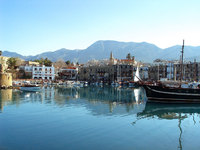 With spring still a long way off, goNorthCyprus.com has holiday deals ready to entice anyone out of their cosy hibernation this February half-term.

Winters in North Cyprus have a warm average temperature of 20 degrees Celsius, making it the perfect destination for active outdoor pursuits.

Tee-off at the first international golf course in North Cyprus, the Korineum Golf and Country Club tucked in the foothills of the Five Finger Mountain Range. Designed for all levels of players, the course boasts stunning views of mountains and the sea.

There are trails galore throughout the island, perfect for hiking or horseback riding. Wander through old walled cities, climb deserted mountain tracks or ramble through sand dunes and beaches to your heart's content.

Release some pent up aggression at North Cyprus' first paint balling centre. Other activities sure to get your heart racing include launching yourself off a cliff 2,500 feet above Kyrenia and enjoying a bird's eye view during a tandem paraglide.

Escaping the winter this half-term doesn't need to break the bank either – goNorthCyprus.com offers unbeatable prices on the best accommodation this captivating island has to offer.

Example packages include:

MOUNTAIN VIEW HOTEL, WEST KYRENIA – SEVEN NIGHTS FROM ONLY £476 PER NIGHT
Treat the family to an unforgettable half-term holiday at the welcoming Mountain View Hotel. Staying in a two bedroom villa with breakfast included, guests are a short distance from shops and restaurants of Kyrenia or the beautiful Escape beach with one of the best scuba diving schools in Cyprus. Prices start at £476 based on two adults and two children sharing a two-bedroom villa with breakfast included.

ALKAN HOLIDAY VILLAGE, ESENTEPE – SEVEN NIGHTS FROM ONLY £357 PER NIGHT
Moments away from the only golf course in Kyrenia, guests of the Alkan Holiday Village stay in comfortable self-catering bungalows only 50 yards from the Mediterranean sea and shops and bars right on its doorstep. Prices start at £357 based on two adults and two children sharing a self-catering bungalow.

For more information or to book visit goNorthCyprus.com.