From American cowboy to Argentinian gaucho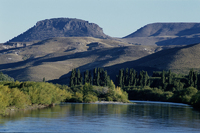 If you've already experienced ranching in North America, why not head off to Argentina? Ranch Rider is extending its portfolio, enabling horseback enthusiasts to sample authentic South America with the gauchos: the very first cowboys to hit the dusty trail.

A new destination for the travel specialist, two exclusive properties feature in the 2010 brochure, both estancias offering mouthwatering cuisine, fine wines and sumptuous accommodation.

Located in northwest Patagonia at the foothills of the majestic Andes Mountain range, the luxury Tipiliuke Lodge is surrounded by more than 48,000-acres of mountains and valleys. A favourite with anglers worldwide, the famous Chimehuin and Quilquihue Rivers also flow through the property.

Featuring 4,000 head of cattle the lodge combines a range of riding pursuits with special programmes covering, gourmet lessons, birding, fly-fishing, mountain biking and skiing; and as part of its centenary year celebrations, the estancia will be hosting an Open Golf Tournament on 01 May 2010. Novices and professional are welcome to take part, the event being held at the nearby Chapelco Golf course (18-hole, par 72), designed by the legendary Jack Nicklaus. A haven for health and wellness the lodge also aims to enrich guests' spirits through the senses - the 'Alchemist Trail' combines riding and trekking with meditative techniques.

Taking a maximum of only 18 guests, the boutique property has nine bedrooms with private bathrooms, a living room, dining room, sauna and bar. For added seclusion groups can hire the private Mayal Guest House, which features three bedrooms with private bathrooms, a two-bedroom apartment, a large patio and outdoor swimming pool.

Exquisite local dishes and fine wines round off the 'retreat-like' experience, alfresco style lunches allowing guests to take in the beauty of the estancia's exotic gardens.

7-nights with Ranch Rider costs from £1,899pp including, full board accommodation, drinks, ranch activities, use of ranch facilities, tansfers and taxes. Return flight from £695pp, excluding internal flight cost to Chapelco Airport.

A luxury organic cattle farm situated in the region of Cordoba, the Estancia Los Potreros allows its guests to experience the rural traditions of Argentina, without sacrificing their creature comforts. The owners place a strong emphasis on the traditional role of the gaucho, riders rounding up the horses and protecting them from the elusive puma.

Overnight pack trips into the Sierras are available during the summer, the estancia's herd of 80 horses including the Paso Peruano - its fifth gait making for an extremely comfortable ride. When not cantering along the grassy hilltops guests can try their hand at lassoing, trek to hidden rock pools or even enjoy a weekly game of informal polo.

Three excellent golf courses are situated nearby, whilst other pursuits including, world-class dove shooting, mountain biking and paragliding are also within easy reach of the estancia. Located in the beautiful Sierras Chicas Hills, the landscape lends itself to painters and writers and an artist's box is available for the creatively minded.

European dishes are complimented by Los Potreros' own label wines and the owners offer informal tastings. Organic vegetables, local produce and renewable resources including solar and wind power showcase the estancia's commitment to the environment, the boutique property taking a maximum of only 12 guests.

7-nights with Ranch Rider costs from £1,299pp including full board accommodation, drinks, ranch activities, use of ranch facilities, transfers and taxes. Return flight from £695pp excluding internal flight cost to Chapelco Airport.

All prices are based on two sharing and are subject to availability.

Visit ranchrider.com for further information.