Go green in Alsace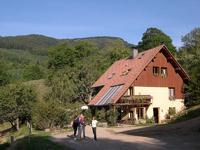 This is the year to choose a 'green' holiday in Alsace! Not only is it singled out as a region to visit in the 2010 edition of Lonely Planet's Best In Travel guide, but there is an ever increasing range of 'green' accommodation on offer, varying from hotels to lodges and farms, which provide the perfect location for an eco-holiday.

Alsace is full of nature's bounty and is home to two nature parks and 21 nature reserves and many wildlife parks. As well as being the ideal region for walking holidays, Alsace features over 1,300 kms of marked cycle touring routes and also offers many holiday opportunities for horse riding, canoeing and climbing enthusiasts.

The region's 'green' accommodation includes Hôtels au Naturel .These hotels have to meet strict criteria to be included in the group including respect of the local region and its heritage, preservation of traditional working practices (including local sourcing of products and materials) and preservation of the environment (e.g. use of renewable energy technologies, waste recycling, preservation of water, reduction of noise and light pollution). Alsace has over half of the 20 Hôtels au Naturel that are found throughout France.

Examples include Villa Rosa (.villarosa.fr) – a pretty hotel in southern Alsace whose owner, Anne Rose, is a qualified nature guide who can provide guided walks through the surrounding countryside (including great mushroom searches!) or tales by the fireside in the evenings. Another Hotel au Naturel is La Rochette (larochette-hotel.fr), a quiet hotel in the Vosges Mountains that provides exceptional seasonal food sourced only from local producers whilst Le Cheval Blanc (hotel-cheval-blanc.fr) is an impressive traditional Alsatian house in the perfect location from which to explore the Vosges du Nord national park.

The World Wildlife Fund, in association with Gîtes de France and the National Parks Association, has created a classification for gîte accommodation called Les Gîtes Panda. This award recognises lodgings that actively preserve their surrounding environment and also provide education for visitors. Within Alsace these gîtes are located close to nature trails and footpaths within the Ballons des Vosges and the Vosges du Nord national parks. All Gîtes Panda contain a trunk with guides on how to identify the local fauna and flora, maps, information on the local history and measures taken to preserve the environment, games and activities for children and two pairs of binoculars! Les Hautes Huttes (hautes-huttes.com) near Orbey is situated in a beautiful mountain setting with an organic kitchen garden and wood burning stove.

There are over 50 fermes-auberges in Alsace. These are traditional working farms that are almost totally self sufficient and provide home-produced organic food and, in most cases, accommodation. The farms are situated in the Vosges Mountains and often actively encourage holiday makers to muck in. The ferme-auberge du Christlesgut (christlesgut.com), for example, is a dairy farm that allows visitors to help with the milking process and the making of cheese and butter. The farm also lets children help prepare a meal, using ingredients that they have sourced during the day. Other farms raise cattle, ducks, goats, pigs and geese.

More and more tourists and travel agents are prioritising the environmental implications when making decisions about future holiday plans. Generally, this means looking for substitutes to air travel and the TGV Est high speed train link (tgvesteuropeen.com) provides holiday makers to Alsace with an environmentally viable alternative.

A train journey from London to Strasbourg takes approximately five hours using Eurostar and the TGV (raileurope.com.).The trains go on through Alsace stopping at the other main centres of Colmar and Mulhouse and the rail journey produces less than one third of the total CO2 emitted by an aeroplane on an equivalent journey.

More details on eco-holidays in Alsace can be found at tourism-alsace.com.