AirBaltic to launch flights from Vilnius to London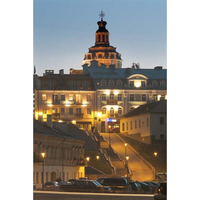 AirBaltic has announced a new route from London (Gatwick) to Vilnius, Lithuania.

"The airBaltic decision to relaunch direct flights between London and Vilnius will definitely help to attract more tourists from the UK to Lithuania. The airline is already established in the UK market as the major carrier to the Baltic Countries and we are happy to cooperate with them marketing Lithuania to the British travel trade and to British travel writers." states Augusta Jaudegyte, the Director of Lithuanian National Tourism Office in the UK.

Direct flights to London will commence on March 4 and will operate twice a week on Thursdays and Saturday. Additional flights on Mondays and Wednesdays will be introduced on March 27, increasing the frequency to four times a week.

Tero Taskila, Chief Commercial Officer of airBaltic: "Due to, its recently reduced charges, Vilnius airport has now become more attractive for airlines, and we are delighted to offer the new London-Vilnius service for leisure and business travellers."

Neil Taylor, author of the Bradt Guide to the Baltic Cities: "It is good that an airline eager to work with the travel trade and with the travel media has returned to this route. airBaltic are bound to make a success of it and I am sure we can look forward to increased services from them between Britain and Lithuania"

Passengers will board a Boeing 737 aircraft for a flight of two hours and 55 minutes. One-way ticket prices start at around £23, including airport fees and service charges. A full schedule of flights can be found at airbaltic.com.