Draper builds one of the most flexible 26 tonners in the UK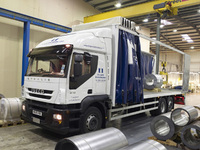 Newton-le-Willows-based Draper Distribution has grown its commercial vehicle fleet with the addition of an eighth Iveco Stralis, just two years after the company formed.
The new Stralis Active Time 26 tonne rear-steer rigid (AT260S31YPS) benefits from a unique bodywork combination engineered by PPS Commercials in Manchester to comprise a curtainside body and Ratcliffe tail-lift, together with a sliding roof. This required delicate engineering to allow the sliding roof mechanism to be mounted at the front of the body, thereby eliminating the need for a roof bar at the back and allowing cranes to swing in through the rear when loading. In turn, this meant extra rigidity had to be built into the body to enable the tail-lift to be mounted.
Peter Draper, Managing Director of Draper Distribution, says: "It's a prime example of precision engineering and allows us to operate an incredibly versatile 26 tonne rigid which can be loaded by forklift truck as normal, but with the added flexibility of being able to be unloaded by crane on building sites.
"Sliding roofs on rigids typically operate the other way, but crucially this specification makes the unloading process significantly easier for the crane operator as they can swing-in to collect a load of pipes or metal coils, rather than drop-in. Factor in the Stralis' excellent payload and manoeuvrability, and it's probably the most multifunctional vehicle of its type in the UK. It's certainly proving popular with our customers," he adds.
Supplied by Iveco dealer Chatfields in Warrington, the Stralis AT will be on the road up to six days a week and is expected to cover approximately 120,000 km a year. It joins seven other Stralis' in operation with Draper Distribution, which has utilised a 100 per cent Iveco fleet since it began trading.
"The drivers love the Stralis as it provides such a comfortable working and living environment, which is particularly important as it is common for our drivers to be away all week long. I've also got complete confidence in the Stralis as it has proven itself to be a reliable and hard working fleet performer, and we enjoy an excellent relationship with Chatfields. The fact we've come back for Stralis number eight in a row speaks for itself," adds Draper.
The new fleet addition has been supplied on a five year Iveco Elements repair & maintenance contract which includes planned maintenance inspections and scheduled servicing within the Iveco dealer network, repair and replacement of selected key components due to wear and tear, non-scheduled repairs and MOTs.
It is powered by a 7.8 litre Cursor 8 engine, developing up to 310 hp between 1,675 and 2,400 rev/min and up to 1,300 Nm of torque between 1,200 and 1,675 rev/min, whilst meeting demanding EEV standards, which sets an even stricter emissions limit than Euro 5.
The engine is driven through a EuroTronic gearbox, fitted as standard, which offers either fully or semi-automated shifts. This helps to provide a safer and more comfortable driving experience as the driver can give the road ahead his maximum concentration, rather than having to worry about changing gear.