Spring has sprung in Ibiza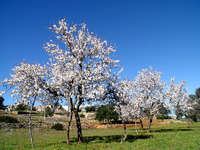 For many the most magical time of year in Ibiza, signifying rebirth, and the coming of spring is the month of February. With temperatures already between 11C to 14C and clear blue skies, Ibiza is the perfect escape for a long weekend.

Normally towards the end of January and throughout the month of February the almond trees around the island burst into blossom, their tiny white, delicate petals a sign of the warmth to come.

One of the best places to admire this natural wonder is in the valley of Santa Ines, which is swathed in a blanket of fluffy white. So famous is this valley for its blossom that night walks under the slivery glow of the full moon are held. Walkers gather at 8pm at the municipality house in San Antonio where they depart for the almond orchards of Santa Ines. At around 11pm as the walkers finish their route they are welcomed with people selling sobrasada (sausages) and caleta, a traditional Ibizencan coffee warmed with alcohol.

Ryanair.co.uk currently flies to Ibiza on Tuesdays, Thursday and Saturdays from London Stansted with one way flights starting from £24.99 including online check in but no taxes and charges and baggage allowance.

For accommodation try the converted Farm House Can Lluc (canlluc.com/en), once a country farm house the property has since been restored into a warm and stylish hotel surrounded by ancient pine, almond and olive trees. Situated interior of the island near San Rafael, family-owned Can Lluc offers seclusion and character away from the crowds. Doubles start from €171.20 including breakfast.