Maserati and Damiani announce licensing agreement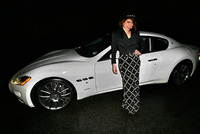 Maserati and Damiani have the pleasure to announce a licensing agreement highlighting the first jewellery line dedicated to the prestigious Italian car company. The announcement was made last night at an exclusive dinner to celebrate the launch of Damiani in London, held at The Connaught Hotel in Mayfair. Several celebrity guests arrived onboard a fleet of Maserati Quattroportes and GranTurismos, including supermodel and TV presenter Jodie Kidd, singer Paloma Faith, who entertained the guests with an amazing live performance, TV presenter Cat Deeley and actor Jack Huston.
Until 2012, Damiani will design, produce and sell a bespoke jewellery line, inspired by the image and elegance of Maserati.
The designs will be available at selected multi-brand jewellery shops, from the Damiani Group retail network and Maserati dealerships worldwide.
"Maserati is an extraordinary luxury brand, recognised worldwide for the unmistakable elegance of its cars," said Federico Santoro, Communication and Marketing Director at Damiani Group. I'm extremely proud of this agreement, especially since it occurs as Maserati is launching new and exciting models, like the first four-seater convertible in the history of the Trident marque".
"The licensing agreement that has just been signed represents the most recent joint initiative we have carried out with Damiani - said Massimo Faraò, Marketing Director at Maserati – and builds on the brand values and styles shared by our companies and by those who admire our products."
Besides the collaboration on the jewellery front, Damiani and Maserati will further implement their partnership with joint marketing and communications activities, thus strengthening the links between the two companies, whose quality, craftsmanship and history have made them perfect ambassadors for the 'Made in Italy'.