Dramatic Vauxhall concept to debut with Meriva at Geneva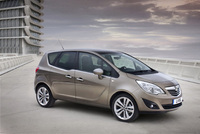 Vauxhall will unveil not one, but two cars at this year's Geneva Motor Show on March 2, with world premieres of the all-new Meriva compact MPV and a futuristic concept car, which is set to boost the company's credentials as a leader in environmental vehicles.
Bolstering this message still further at the show will be the groundbreaking Ampera extended-range electric vehicle and Vauxhall's most economical production car to date, the latest Corsa ecoFLEX.
'Vauxhall is covering all bases at Geneva,' said Duncan Aldred, Vauxhall's Managing Director. 'With the Meriva, we have a unique and innovative take on family motoring, but the concept car and Ampera prove that we are truly at the forefront of environmental technology. These vehicles also show that their versatility and efficiency doesn't come at the expense of stunning design.'
Meriva – the flexibility champion
Vauxhall's new Meriva is set to turn the conventional concept of family-car usability on its head with a combination of clever, rear-hinged back doors which radically improve access/egress, and a raft of unique cabin features that boost interior versatility.

The Meriva's FlexDoors are rear-hinged back doors which swing open towards the back of the car at an angle of nearly 90 degrees, vastly improving the ease with which occupants enter and leave the cabin – a major benefit for both parents with young children, as well as older people.
But this isn't the Meriva's only innovation. FlexRail transforms the conventional centre console into a convenient and adaptable storage area for a wide range of everyday items, from handbags and colouring books to iPods and sunglasses.
Complementing FlexRail is the Meriva's clever FlexSpace seating system, which offers a range of cabin configurations without having to remove any of the seats. Both its outer rear seats can be moved fore and aft individually, and also slide inwards to provide more shoulder width and leg room.
The Meriva's flexibility is enhanced by an expressive and dynamic silhouette to its basic cab-forward design. Like the Astra and Insignia, a 'blade' features down the side of the body, complementing a window line with a distinct 'wave' accentuating the FlexDoors.
Six turbocharged powertrains with outputs ranging from 75-140PS will be available when the Meriva hits UK showrooms in June this year, with a high-mpg/low-CO2 ecoFLEX model joining the range, too.
Concept car gives clues to Vauxhall's future environmental direction
Vauxhall will premiere a concept car that embodies much of the company's future thinking in terms of design and engineering.
Using green innovation and alternative propulsion, the concept is proof that size and comfort do not need to be sacrificed for a vehicle to be environmentally efficient.
More details on the concept car will be revealed in due course.
Vauxhall Ampera showcases E-REV technology
The five-door, four-seater Vauxhall Ampera is on schedule to go into production late next year. It carries the same design DNA as the new Astra and Car of the Year-winning Insignia, yet it uses groundbreaking extended-range electric vehicle (E-REV) technology.
Unlike other conventional propulsion systems, E-REV uses electricity as its primary power source, supplemented by a small engine to generate electricity for its motors when electric power runs low. This helps the Ampera overcome the 'range anxiety' issues associated with pure electric cars.
Revised Corsa range – now featuring Vauxhall's most economical model ever!
While E-REV tech forms a crucial part of Vauxhall's green game-plan, developing highly efficient – but exceptionally driveable – cars powered by conventional engines is still important, something which the latest mid-life improvements to the big-selling Corsa range illustrate perfectly.
Thanks to the Corsa, Vauxhall is set to sell more sub-125g cars than any other model range in the UK this year due to significant efficiency gains in its engine line-up. The ultra-economical units – all of which, bar the VXR model, exceed 50mpg combined when fitted with a manual gearbox – are joined by a raft of improvements to the Corsa's chassis, boosting its driver appeal still further.
The economy star of the range is the latest ecoFLEX model, which not only gains 20PS of power, but also achieves a combined 76.3mpg and emissions of just 98g/km.