G is for generous - Infiniti's enhanced 2010 G line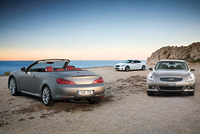 An enhanced interior offering more of what Infiniti does best – distinctiveness, craftsmanship, functionality – is the main change for the luxury brand's sporting two-door cars, the G Coup and G Convertible, for Model Year 2010. The move brings the V6-powered performance cars into line with the third G Line member, the saloon, which, it has already been confirmed, benefits from the same package of interior revisions for 2010 as well as exterior enhancements. In addition, Infiniti has introduced a new all-inclusive specification called Premium for the G and G Coup in response to customer demand.
The new interior look centres on a redesigned console, based on that of the EX and FX crossovers. The revised console builds on Infiniti's individual interior character, with its emphasis on natural materials and Japanese craftsmanship, while retaining all the ergonomic excellence of before.
The cabin's aluminium highlights now feature a new pattern, inspired by traditional Japanese calligraphy. In addition, across all models, there's a new, optional high-gloss Maple wood trim and the dials and instrument display now use white as background colour.
Infiniti's hard disk drive (HDD) information and entertainment platform, Connectiviti, is fitted to the G and G Coup for the first time, while the innovative navigation version, Connectiviti+, is standard-fit on new Premium models. Connectiviti+ brings with it far more functionality than the previous navigation system, such as 3D graphics and exclusive access to Michelin's Green Guide tourist information and gastronomical Red Guide. It's also four times faster at route calculation than the previous DVD-based set-up.
In the multimedia stakes, the entire G Line for 2010 can now claim to be among the most switched-on luxury ranges in Europe – without buyers having to resort to the often baffling, invariably costly, piecemeal multimedia options offered by some rivals.
A revised exterior colour, in a shade of dark grey, is added to the paint palette for 2010 Coup and Convertible. It features of course Infiniti's Scratch-shield technology which magics away fine scratches. In all other ways both two-door models are unchanged on the outside, retaining the dynamic athleticism for which Japan's newest luxury car manufacturer is rapidly becoming known in Europe.
The revised models form part of an expanded G Line for 2010 with new Premium editions slotting in at the top of the range. Developed in response to customers mainly ordering the G fully-optioned, the Premium versions include all the most popular features as standard, taking "top spec" to a higher new level – no mean feat for a marque already known for its comprehensive specification and short options list.
As well as Connectiviti+ satnav, Premium models come as standard with a Bose 11-speaker sound system, complete with HDD space for up to 300 CDs, reversing camera and Infiniti's innovative safety technology, Intelligent Cruise Control (ICC). Every Infiniti is already fitted with cruise control – as well as a speed limiter – but ICC is a smart system that uses laser sensors to maintain a safe distance to the vehicle ahead. The latest Full Speed Range version of ICC will automatically bring the car to a complete stop if necessary.
The new Premium editions of the Infiniti G and Infiniti G Coup are available in either luxury GT form – leather, heated seats with memory and electric lumbar adjustment for the driver – or more sporting S trim where driver-focused features such as four-wheel active steering (4WAS), limited slip differential (Viscous LSD), sports suspension, sports seats and uprated brakes already come as standard. Infiniti predicts the Premium models will become the top-selling Gs throughout Europe, with half of all saloon buyers expected to go for the GT Premium and four out of 10 coup buyers opting for the S Premium. In the Convertible line-up, the GT is already outsold by the GT Premium.
Choice for buyers is made even simpler for 2010 by a streamlined entry-level range for both Infiniti G and Infiniti G Coup. But while there are now fewer options, the entry models continue to be as well equipped as ever with bi-Xenon cornering headlights, parking sensors, powered front seats, electrically adjustable steering column, 18-inch alloy wheels, i-Key smart access, cruise control/speed limiter and Scratch-shield paint all part of the deal – along now with all the multimedia advantages of the Connectiviti system. Even in standard form, Connectiviti comes with features such as seven-speaker stereo, iPod/USB compatibility with AUX-in RCA, Bluetooth audio streaming, 1CD reader with MP3 WMA compatibility and 2Gb Infiniti Music Box.
In other changes for 2010, the success of the all-wheel drive option for the Infiniti G saloon means it now ranks as a model in its own right. Across Europe, 44% of saloons have been the x model with its winter-defying intelligent torque control drive to all four wheels. Automatic Gs – featuring a seven-speed Adaptive Shift Control transmission with steering wheel paddles – are now also listed as separate models.
Despite the extensive enhancements to all G Line models, there are no price rises for either the Infiniti G or Infiniti G Coup, with a modest £220 increase in the cost of the Infiniti G Convertible. Automatic and all-wheel drive versions reflect their old prices plus the cost of what were formerly options. Ditto the new Premium models – making them exceptional value given the extra functionality and improved navigation performance of Connectiviti+.
G prices for 2010 start at £30,930 for the Infiniti G, £32,620 for the Infiniti G Coup and £38,800 for the Infiniti G Convertible with electric retractable hard-top. The all-wheel drive x saloons starts at £34,100.
Prices of the new Premium range, all with HDD navigation, Bose Premium sound system and Intelligent Cruise Control as standard, are as follows:
INFINITI G
G37 GT Premium MT (manual transmission) £35,380
G37 GT Premium AT (automatic transmission) £36,915
G37x GT Premium AT (automatic transmission) £38,550
G37S Premium MT (manual transmission) £37,320
G37S Premium AT (automatic transmission) £38,855
INFINITI G COUPE
G37 GT Premium (manual transmission) £37,070
G37 GT Premium (automatic transmission) £38,605
G37S Premium (manual transmission) £39,010
G37S Premium (automatic transmission) £40,545
INFINITI G CONVERTIBLE
G37 GT Premium (manual transmission) £41,865
What is so special about Connectiviti?
Connectiviti is among the car world's most complete and user-friendly multimedia systems. Making its debut in the Infiniti G Convertible at the Geneva Motor Show just a year ago, the system seamlessly links together a host of information and entertainment functions. All are totally integrated and so intuitive to operate the provided handbook can safely remain in the glovebox.
In standard form as now fitted to every Infiniti G, Connectiviti comprises a seven-speaker sound system with tuner and single-CD player. CDs can be either conventional recordings or as compressed files in either MP3 or WMA formats. Play a CD once and it will automatically download to the system's 2Gb hard disk drive (HDD) Music Box, from which it can be played at any time. In addition, music can be played via Bluetooth streaming. No more CDs cluttering up the car.
In Connectiviti+, standard on the new Premium models, a 10Gb Music Box provides sufficient memory to store up to 300 CDs. And you will know precisely who's singing which song from what album thanks to the Gracenote music database integrated into the HDD. All tracks are clearly labeled and music can be organized by genre or playlist.
Connectiviti loves iPods, too. They simply plug in to the USB port, automatically charging the iPod, or other MP3 device, as well as displaying song, album and artist information on the car's 7-inch full colour screen. Driving the iPod is easy – via the buttons on the standard multifunction steering wheel. Other devices can be connected to the audio system via an aux-in socket – or wirelessly via the unit's Bluetooth audio streaming function.
Bluetooth also takes all the hassle out of using your phone in the car. Connectiviti allows full mobile phone integration for safe hands-free operation via a standard voice recognition system. One, moreover, that doesn't sound like you are communicating with an alien.
A master Infiniti Controller takes the guesswork out of operating the system, while the steering wheel buttons and voice recognition offer alternative operating modes.
In Connectiviti+ an 8-inch colour touch screen provides a fourth operating mode for class-leading ease of use. The "+" part of Connectiviti goes much further, however. As well as its 10GB Music Box, there's a reversing camera built in and a 30Gb hard disk drive to power the satnav.
Connectiviti+ offers 3D graphics on the high-resolution screen – points of interest (POI) and some motorway intersections are displayed with astonishing 3D clarity. Other navigational aids include exclusive access to the Michelin Green and Red Guides, with comprehensive information on restaurants, services and tourist attractions in 20 major European cities. The system offers the option to select a scenic route to the destination, while real-time traffic information, supplied via RDS-TMC, ensures prompt route revisions to help the driver avoid traffic congestion. Automatic speed/red light camera warnings, post code search (depending on country) and coverage of 42 countries are all included, too.
Connectiviti+ also offers DVD playback capability. For safety reasons, the picture is only displayed when the vehicle is stopped and handbrake on. The screen can also be used to display album cover artwork – or your latest snaps (JPEG and DIVX formats). You can even customise the background colour of the screen to match your G's interior.