Translinc hits the highways with latest vehicle delivery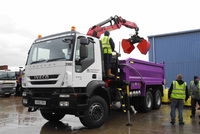 A 26-tonne Iveco 330ES with Epsilon crane supplied by local authority fleet provider TransLinc will be taking up road maintenance duties with London Borough of Hounslow Council.
With bodywork manufactured by Thompsons of Croydon, plus an auto rollover sheet and on-board weigh cells, the vehicle is joining the Council's Highways department fleet and features an Epsilon crane to lift waste materials and spoil into the vehicle's tipper body.
It has been supplied on a five-year contract and will travel up to 12,000 miles per year.
Rod Willis, Transport Operations Manager at London Borough of Hounslow Council, said: "We wanted to stick with Iveco vehicles as they are what we've had in the past. We've got replacement parts stocked on site and our technicians are already trained on the vehicles, so it makes sense to remain a sole marque fleet.
"Latest technology means the vehicle should also help to reduce running costs, through lower fuel consumption and emissions, which also help address our need to comply with London Low Emission Zone regulations."
The 26-tonne vehicle joins London Borough of Hounslow's fleet alongside another, smaller crane-equipped 7.5 tonner, also supplied by TransLinc earlier this year.
Richard Albon, Contract Manager at TransLinc, said: "Drivers and crane operators have been fully trained to use this machinery, which will be carrying out essential road maintenance duties across the borough of Hounslow.
"Anyone using the roads at present will have experienced the potholes and surface damage caused by last month's severe winter weather so it's comforting to hear that specialist vehicles such as these are on hand to fix those issues."