Vauxhall reveals new Antara GTC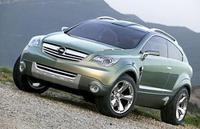 An all-new 4x4 is set to be the star of the GM stand at this year's Frankfurt Motor Show. Combining the head-turning looks of a sporty coupe with the chunky appeal of an off-roader, Vauxhall's latest concept car demonstrates just how athletic and stylish an SUV can be. Developed entirely in-house by GM's own design team, its coupe-like profile, LED headlamps and frameless windows are unique innovations in the class, and point the way towards the design direction of future Vauxhalls.

Sitting on 20-inch alloy wheels, Antara GTC takes strong styling cues from other models in the Vauxhall line-up. The distinctive bonnet ridge, for example, can be found on every Griffin-badged car, while the modular glass roof is inspired by the Panorama roof first seen on the New Zafira.

"With this study, we wanted to develop a concept that quite simply whets your appetite," said exterior design director Mark Adams. "An appetite for new discoveries, for driving and for getting out and doing something sporty. The result was a very attractive crossover that is a decidedly sporty interpretation of an SUV."

But it isn't just about style, as the Antara GTC has been designed with many purposes in mind. Its looks certainly convey more of an 'on road' than 'rough terrain' image, but nonetheless it is a car that has been created to cope with unconventional conditions. Short front and rear overhangs and a lofty ride height suggest that this is a car capable of coping with the rough, while still looking smooth.

Practicality played a key part in Antara GTC's design, too. The three-door body is accessed through clever door handles, which glide out of the door electronically when the remote locking is activated. They conceal a spacious four-seater cabin, with large glass areas to give a feeling of space. There's plenty of room to get comfortable too, thanks to the innovative sliding seats. Unlike conventional seats, which are mounted on a pair of runners, the Antara GTC's each have their own monorail to slide fore and aft on, allowing much more legroom for rear seat passengers. They also slide forward at the touch of a button to allow rear seat access.

The lack of a B-pillar allows easy access to the rear without compromising that sleek sloping roofline, while the tailgate is a work of art. Like the Insignia concept car previewed at the 2003 Frankfurt Show, it uses a 'pantograph' style door, which is counterbalanced rather than based on space-consuming hydraulics. This means it takes up far less space both inside and outside the car, lifting up and over the roof rather than outward like a conventional rear door. The back seats can be folded away completely from the rear, producing a completely flat load floor and allowing up to 2,400 litres of usable loadspace.

There are interesting developments under the bonnet, too. While some show cars are little more than static models, Antara GTC is fully operational and houses the latest development of GM's 1.9-litre CDTi turbodiesel unit beneath its chiselled nose.

Developing 212PS, the unit has two turbochargers rather than the usual one, meaning it develops a massive 400Nm of torque at only 1,400rpm. That gives it enough grunt to accelerate from 0-62mph in around eight seconds, and on to a top speed of around 130mph. The engine is coupled to a six-speed automatic transmission, powering all four wheels.