Top value, top quality holiday villas in Croatia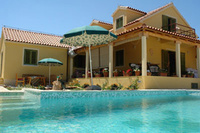 Specialist Croatia tour operator 'Hidden Croatia' has come up with its pick of the top self catering villas and apartments in Croatia, from family waterside villas with pools, to rural houses in close proximity to the country's excellent value restaurants and unspoilt countryside.

Waterfront villa on Croatia's wine growing peninsula
Right above the waterfront, a 2 minute walk from a tiny local hamlet on Croatia's charming, sun-baked Peljesac peninsula, 90 minutes south of Dubrovnik, is Villa Silencia, a modern stone villa with large pool, set above the channel that separates the peninsula from the island of Korcula. The family sized villa has with a lovely private swimming pool and accommodation for up to 6 guests, available for a week's rental from £1272, or £385 per person with return flights into Dubrovnik and transfers, based on 6 sharing.

Rural new villa on the island of Brac
Villa Kolachie is a new villa on the enchanting Croatian island of Brac in a magnificent hilltop position, with commanding sea views. The house, which has its own swimming pool, large covered terrace and garden sits comfortably in an old stone built village of just 200 people and there's a local grocery 300m from the house. Brac island is known for all the good things in life, such as fishing, good wine, olive oil, figs, nectarines and is one of the sunniest in the Adriatic, with an average of 2,700 hours of sunshine. Villa Kolachie is available for a week's rental for up to 6 guests from £1956 through Hidden Croatia, or £495 with flights and transfers for 6 sharing.

Villa with pool, 15kms from Dubrovnik on the Dalmatian coast
Villa Pepe is the blueprint for a villa that has everything. It has a path down to the seashore for sea-swimming, a lovely terrace, stylish décor, a freeform pool, views of the Elaphiti islands and the Adriatic, and a seaside location just 15km from Dubrovnik. Villa Pepe is in the charming village of Trsteno, with just a handful of houses and villas and one of the oldest botanical gardens and arboretums in Europe and can be rented for a week from £1896, or £489 per person for 6 sharing, with flights and transfers.

Rural stone villa with pool, ideal for foodies
The stone and shuttered Walnut House, set amid rolling hills in the tiny hamlet of Ruzici on the Istrian peninsula is a lovely, rustic, rural villa that is spot on for foodies. It's a short drive to the hilltop town of Gracisce, for some of the best prosciutto and cheese in Istria, 5 minutes from the lively coastal town of Rabac with its restaurants, bars and blue flag beaches, and one of the best restaurants in the area, Restaurant Pineta, is just 2kms away. The house is fully air-conditioned, well equipped and has a lovely swimming pool in its shady garden and accommodation for up to 4 guests. A week's rental through Hidden Croatia costs from just £984, or £415 for 4 sharing, with flights to Pula and transfers.

Sea-side apartments with pool, from £299
Self-catering in Croatia offers exceptionally good value, as do the supermarkets, restaurants and cafes on Croatia's coast and islands. The air-conditioned 3* Lina Apartments on the Croatian island of Korcula each have a seaside terrace or balcony and shared pool, water-ports, dive centre and restaurant and are close to a 200m stretch of golden sand. A week's stay, with flights and transfers, costs from £299 per person, available through Hidden Croatia, based on 4 sharing.

For more information and reservations, visit hiddencroatia.com.