Faster, cleaner and smoother – new 1.8 Zafira arrives in showrooms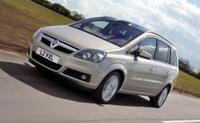 There's now even greater choice in the stylish New Zafira line-up, following the introduction of Vauxhall's all-new technically advanced 1.8-litre ECOTEC engine.

The new power unit is massively important for Vauxhall, as not only is it expected to become the best-selling engine choice in New Zafira, but it will also go into a huge variety of exciting new models over the next few years.

With a power output of 140PS, the new unit uses the best of GM technologies and is one of the most powerful in this displacement class, but it's far from being a highly-stressed race engine with peaky power delivery. Thanks to advanced valve and cam phasing technology, 90 percent of the 175Nm maximum torque is available from 2200 to 6200 rpm. This wide range ensures lively performance and exceptional pulling power even at low engine speeds, making everyday driving more relaxed with less need to change gear.

There are also huge benefits for fleet customers, with low CO2 emissions of 187g/km, coupled to New Zafira's already keen pricing and strong residuals, making the newcomer a standout choice for user choosers and fleet managers alike.

Although most motorists will only need to know that the all-new 16-valve engine makes the already dynamic New Zafira great to drive, there are numerous innovations which will be of interest to the technologically minded: two continuously adjustable camshafts (DCVCP – Double Continuous Variable Cam Phasing) to make the best use of fuel; a two-step intake manifold with a rotary sleeve instead of flaps to minimise flow losses; a highly efficient oil-water heat exchanger; a map-controlled thermostat; and a deep drawn exhaust manifold with an integrated catalytic converter.

Lightweight design also contributes to the high efficiency of the engine. In spite of additional features such as DCVCP, the engineers succeeded in making the new unit three percent lighter than the previous version while achieving increased stiffness and structural strength. The cylinder block alone is 20 percent lighter than its predecessor due to a hollow frame concept.
Advantages of the double camshaft adjustment include higher power output and torque characteristics over a wide engine speed range; reduced exhaust emissions thanks to high gas recirculation rates; and reduced fuel consumption using a de-throttled charge cycle.

The new engine is available in Life, Club, Design, SRi and Special Edition Active versions of New Zafira, with prices starting at £15,695. It will also be offered in other Vauxhall models soon.