Vauxhall Antara GTC awarded 'Concept of the Year'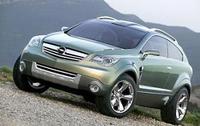 Vauxhall's Antara GTC (Gran Turismo Crossover) concept vehicle has already won an award, even though its production version won't arrive in showrooms until late 2006.

The striking Frankfurt Show car won the prestigious 'Concept of the Year' title in this year's Autocar awards. The annual ceremony, hosted by Britain's longest-running car magazine, recognises the very best in the global car industry, and for Antara GTC to win silverware almost a full year before its production launch shows that Vauxhall is thinking in the right direction with the all-new crossover vehicle.

Autocar's editor Rob Aherne said: "The Antara has raised the bar in terms of Vauxhall's concept quality."

Aherne also praised Vauxhall's dynamic design, saying: "Vauxhall are back on track with their design direction. There's no New Edge design or Flame Surfacing at their design centre, just a bunch of professionals designing some of the most attractive family cars of the moment."

Accepting the honour, GM Europe's Executive Director of Design Bryan Nesbitt said: "It's quite rewarding to receive this honour from such a prestigious and established motoring magazine. It's a tribute to the hard work of our design team whose creativity and execution in creating some of the most stylish and dynamic designs for both current and future products has been recognised at such an influential level."

The Antara GTC concept wowed crowds at September's Frankfurt Motor Show with its strikingly-styled body and unique interior.

Practicality played a key part in Antara GTC's design. The three-door body is accessed through clever door handles, which glide out of the door electronically when the remote locking is activated. They conceal a spacious four-seat cabin, with large glass areas to give a feeling of space. There's plenty of room to get comfortable, too, thanks to the innovative sliding seats. Unlike conventional items, which are mounted on a pair of runners, Antara GTC's front seats each have their own monorail to slide fore and aft on, giving more comfortable legroom for rear seat passengers. They also slide forward at the touch of a button to allow rear seat access.

The lack of a B-pillar allows easy access to the rear without compromising that sleek sloping roofline, while the tailgate is a work of art. Like the Insignia concept car previewed at the 2003 Frankfurt Show, it uses a 'pantograph' style door, which is counterbalanced rather than based on space-consuming hydraulics. This means it takes up far less space both inside and outside the car, lifting up and over the roof rather than outward like a conventional rear door. The back seats can be folded away completely from the rear, producing a completely flat load floor and allowing up to 2,400-litres of usable loadspace.

It is also a fully operational prototype, powered by a 212PS version of Vauxhall's acclaimed 1.9-litre CDTi 16v diesel engine, equipped with two turbochargers.

A production Antara, set to bring Vauxhall innovation and style to a new area of the market, will arrive in showrooms before the end of 2006.