Slovenia hosts Wild Flower Festival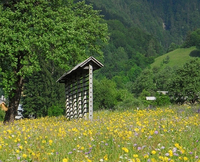 The annual Wild Flower Festival near Bohinj in Slovenia's Triglav National Park will once again celebrate everything that's wonderful about flowers, including the fact that it's possible to eat some of them.

From 22nd May until 5th June, this stunningly beautiful alpine region of Slovenia will welcome visitors who come to savour nature's seasonal transformation, as the valley floor, mountain meadows, wetlands, moors and forests become covered with spring colours.

Among the many workshops that will take place during the festival is 'Edible Wild Flowers – collecting and preparing'. Celebrity Slovene chef and author, Dario Cortese takes participants in to the surrounding countryside to collect meadow flowers and other edible plants, which he then uses in conjunction with local traditional dairy products to prepare delicious drinks and dishes.

Other events at the Wild Flower Festival include photographic, art and embroidery exhibitions, guided botanical tours (in English) on foot, bicycle and horseback, gourmet nights with wild flowers on the menu, craft markets, folk dancing and classical music. Some events are free while there is a charge for others and workshops need to be pre-booked in advance.

Prices for a week's holiday in Pr'Gorjup, an organic farm close to Lake Bohinj, start from £475 per person based on two people sharing and include flights from Stansted, car hire, seven nights' bed and breakfast accommodation and the Edible Wild Flowers workshop. Self-catering accommodation is also available in the Mavrica Apartments from £475 pp in the nearby hamlet of Stara Fuzina.

For further information, visit justslovenia.co.uk.