Vauxhall gets a grip on the 4x4 market with new Antara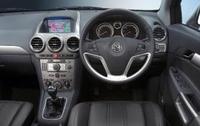 These are the first pictures of the car which will mark Vauxhall's return to the booming 4x4 market – the Antara. The five-door, five seat SUV will make its world show debut at the Mondial de l´Automobile in Paris at the end of September.

With its stylish looks and high ground clearance the Antara has all the attributes demanded by customers in this burgeoning sector, and yet its external dimensions are only fractionally larger than an Astra estate at 4570mm long and 1850mm wide.

The interior offers plenty of room too, thanks to its car-like monocoque body structure, transversely mounted engines and a compact four-wheel drive system.

The Antara's interior styling and quality will also be a pleasant surprise to buyers in the sector. Sporty contoured seats, large, well-designed instruments and a centre console with easy-to-read info display give the cockpit a driver-oriented layout, and the fit and finish is expected to set a new benchmark for the class. As with other Vauxhalls, technology such as sat-nav and Bluetooth phone connectivity will be available from launch.

The first cars to arrive in the UK – and the biggest selling version of the Antara – will be powered by an all-new highly fuel efficient 2.0-litre common-rail turbodiesel producing 150PS. Both manual and automatic gearboxes will be available.

A 141PS four-cylinder petrol unit will join the range shortly after launch to become the entry-level model.

All versions of the Antara will feature a sophisticated active four-wheel drive system, which combines the fuel economy and handling characteristics of a front-wheel drive car with the grip and stability of all-wheel drive when it is needed.


It features an electronically controlled electro-hydraulic differential which ensures optimal torque distribution between the front and rear axles in all situations. The drivetrain is fully integrated into the ABS and ESP systems, enhancing vehicle control ®

and active safety. To further improve performance on rough terrain, the Antara features an electronic device to enable the car to be driven safely on steep descents at a constant speed.

The UK launch date will be announced nearer the official show debut in September.