Gulf Air steps up local recruitment drive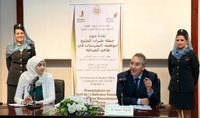 In its continuous efforts to encourage more talented Bahrainis to join the national carrier, Gulf Air Chief Executive Officer, Mr. Samer Majali last week addressed a gathering of soon-to-be-graduates at the University of Bahrain.

Mr. Majali was received by the President of the University of Bahrain, Dr. Ebrahim Janahi and a number of the University's officials before making a presentation to the students. During his address, he highlighted the various career opportunities available to students, in particular an initiative currently being run with Tamkeen to encourage more Bahrainis, particularly females, to join the national carrier in key customer-facing positions.

During his presentation Mr. Majali commented, "Bahrain has been at the vanguard of educational progress in the region since the establishment of the Gulf's first public education system in 1919. This is something from which Gulf Air has benefitted over the past 60 years and something I hope will continue for the next 60.

"As the National Carrier, we are committed to investing in education and developing Bahraini talent. To achieve this goal we have been working closely with Tamkeen to create as many job opportunities as possible for qualified Bahrainis."

Explaining the salient features of the new recruitment drive aimed at Bahraini females and the career prospects with Gulf Air, Mr. Majali said, "We have taken into consideration the cultural and social aspects while asking Bahraini females to come and work for Gulf Air as members of cabin crew, where the job demands odd working hours. We have worked out flexible working hours for them whereby they will not be required to take overnight flights. They can look forward to an exciting and rewarding career with Gulf Air," he concluded.

This recruitment drive is one of the several initiatives that Gulf Air has launched demonstrating its commitment to provide career opportunities to Bahrainis in cooperation with Tamkeen; this includes ongoing two-year on-the-job training for engineering graduates, recruitment and training of 125 Bahrainis in Gulf Air's World Wide Call Centre Programme, training company employees within Tamkeen's Career Progression Programme and providing training facilities to the Aeronautics Maintenance Engineering Programme, just to name a few.

Gulf Air is the first airline in the GCC to come up with such a recruitment drive designed for nationals. It reinforces the airline's commitment to the local community as a responsible corporate citizen.