Gulf Air introduces new dimension to travel experience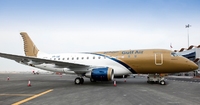 Gulf Air customers travelling from Bahrain to Larnaca in Cyprus yesterday were introduced to a new dimension in the Gulf Air travel experience as they flew on the inaugural flight of the airline's new Embraer E-170 AR aircraft.

At a special ceremony held at Bahrain International airport prior to the departure of the inaugural flight Gulf Air Chief Executive Officer Mr. Samer Majali welcomed passengers, VIP guests from the Civil Aviation Authority (CAA), senior officials from CAA, Bahrain Airport Services, Gulf Air and members of the media.

"Today is an important day for Gulf Air as we continue with our pioneering spirit and celebrate another landmark in what is our 60th anniversary year," said Mr. Majali."The introduction of regional jets to our fleet brings a new dynamic to Gulf Air giving us the flexibility and opportunity to reinforce our position as the best-connecting carrier across the region. My aim is for Gulf Air to serve every Arab capital with at least a double daily service; this objective can become a reality thanks to the size, reliability, comfort and unbeatable economics of regional jets like the E170 AR."

Gulf Air took delivery of two E170 regional jets from Embraer last Thursday on a three year lease agreement with the option to extend for a further five years.

"The delivery of these Embraer 170s to Gulf Air is a significant milestone for Embraer, as this renowned airline certainly strengthens the presence of the E-Jets family in the Middle East," commented Mauro Kern, Embraer Executive Vice-president, Airline Market. "I would like to assure our friends from Gulf Air of our full commitment in supporting the realisation of their strategic growth plans with Embraer E-Jets."

Welcomed with Gulf Air's renowned and trusted Arabian hospitality, passengers onboard the 67 seat new aircraft were treated to luxuriously-appointed interiors, furnished with all-leather upholstered seating throughout the aircraft with no middle seats, offering exceptional comfort.

The spacious Falcon Gold cabin comes with seven seats offering a seat pitch of 36 inches with a comfortable recline and more leg space to stretch out encouraging passengers to a short powernap before they start their business. For those needing to make final changes to their business presentation, there are PC power outlets in the seats. Economy class passengers are equally taken care of with a generous 31 inch seat pitch and comfortable legroom.

The highlight of the aircraft is its top notch, state-of-the-art in seat In-Flight Entertainment (IFE) system in every seat. With over 3000 video titles and audio channels to choose from at their finger-touch customers are spoilt for choice from a wide range of movies, music, news and documentaries in Arabic, English and several international languages.

Gulf Air will deploy the new E170 AR jets on several routes including Larnaca, Istanbul, Athens, Erbil, Baghdad and Muscat. The two E170s will enable the airline to launch an expanded summer schedule for 2010, the details of which will be announced shortly.

In parallel to the fast-track introduction of the two leased EMBRAER 170 AR jets, Gulf Air will be carrying out a full analysis and evaluation of all the regional jets on the market before deciding on the optimal regional jet type to join the fleet permanently. This will support Gulf Air's strategic blueprint to create an airline that reflects the needs and aspirations of our customers with a targeted, more focused regional and international network, a superior and more consistent product and a modern, more efficient fleet.