Flex in the city: the new Agila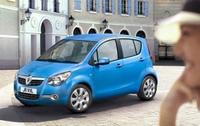 Small is beautiful; especially for drivers who live, work or play in the city. But while the ideal urban runaround needs to be compact in order to slot into the urban landscape, a tiny interior might put the squeeze on your social life.

Which is why the new Agila is set to be hot in the city. Set for a launch in spring 2008, Vauxhall's new baby is small enough to be manoeuvrable in tight parking spaces yet will offer the flexibility of five doors and five seats as standard. There's enough luggage space to embarrass cars in the class above too, providing plenty of room for the busiest of lifestyles.

It's not only the space which will rival bigger, more expensive models. Buyers no longer expect small cars to be budget cars, and the new Agila's styling and interior quality mean it could be considered a fashion accessory in the same way as a pair of trainers, a handbag or an iPod.

The clever design allows for plenty of storage spaces inside and the tall roofline provides an airy, spacious feel. It also allows a high seating position, making it easy to get in and out of the Agila and ensure good visibility even in heavy urban traffic.

For those occasions when owners need to carry furniture rather than friends, the rear seat backs can be folded down to create a completely flat load floor. In total the new Agila has a luggage capacity of 1150 litres - the best in this sector.

To complement the dynamic looks and all-new chassis, the Agila will offer three new engines and an automatic gearbox will be available for the first time. The two petrol units are expected to be the top sellers; a 1.0-litre three-cylinder with 65PS and a

1.2-litre four-cylinder with 86PS. The larger unit is available with an automatic gearbox, an option which is expected to be popular with urban dwellers.

For anyone with an eye on economy and the environment though, the new diesel is expected to be the top choice. The 1.3-litre CDTi, as seen in the Corsa, offers 75PS and exceptional performance while sipping fuel.

To prove that small can also be safe, the new Agila comes with a safety package comprising four airbags, as well as an optional Electronic Stability Program (ESP).

New Agila will make its debut at the Frankfurt motor show in September and will arrive in the UK early next year. Prices and full specifications will be revealed nearer the launch.