Customised accessories for the new Vauxhall Antara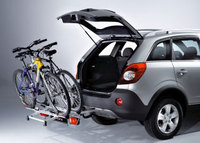 Whether you are an off-roader or just heading for the open road, the newly launched Vauxhall Antara SUV has great potential for all owners, and now there is a comprehensive range of tailor-made accessories to suit all lifestyles.

From bike carriers, roof boxes and child seats to storage aids, styling accessories and the latest in satellite navigation, the aftersales experts at Vauxhall have solved just about every problem.

A semi-rigid Cargo Liner in moulded black plastic with anti-slip finish will protect the large load area of the Antara. Designed with lipped sides to provide maximum protection from dirty boots, wet suits or garden supplies, it can easily be removed for cleaning. It is priced at £72.85.

A range of partitioning and fixing aids from Vauxhall's FlexOrganiser system is also available to provide maximum stowage flexibility and versatility. There are straps, clips and hooks designed to fit the fixation rails fitted as standard to the load area side walls of the Antara, plus a dividing net, floor net and front passenger seat net.

For touring holidays, a detachable coupling tow bar with single electrics could be an essential accessory, along with a set of special towing mirrors. An innovative carrier allowing two bicycles to be mounted on the tow bar is offered at £327.83, while an aluminium base carrier at £128.08 can accommodate a side loading bicycle carrier priced from £83.43, a ski/snowboard carrier or a choice of three roof boxes for secure extra luggage capacity. An Economy box offering 320 litres capacity costs £165.68.

Three different child seats to keep babies and young children up to the age of 12 years safe and secure are available for the Antara, plus rear and side window tint and shade kits to protect children and other passengers from too much sun.

Antara owners can also choose from an extensive range of TomTom portable satellite navigation systems, a Mobile Phone Portal and a MetaSAT Phone-Activated Security System, which allows you to track and immobilise your vehicle using your mobile phone. It is priced at £499.

To customise the exterior of your Antara, the styling experts at Irmscher have created an impressive array of accessories to make your new car stand out in any crowd. The range includes a front lower spoiler, Irmscher cross hatch grille, stainless steel side running boards, sports silencer with split-oval tailpipes, rear roof spoiler and Evo Star alloy wheels.

A comprehensive brochure on all Antara accessories is available from Vauxhall Retailers.