Sony gives you more in the morning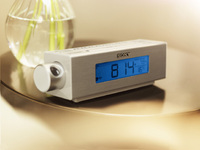 It's so much more than just a clock radio. The new ICF-C717PJ from Sony is packed with great features to help you wake up and drift off in even greater comfort.
Compact and sleekly styled with an elegant brushed aluminium finish, the ICF?C717PJ looks great in any bedroom. It's also the first clock radio from Sony with a built-in projector. Just twist the lens module to any angle and beam a super-sized time display onto any wall or ceiling for comfortable viewing.
There's a generous choice of ways to wake up with the dual alarm clock. Listen to your favourite radio show with the FM/AM digital tuner, or plug your iPod or any personal music player into the audio jack and welcome the day with your favourite tunes.
Looking for a new way to relax? There's a choice of five soothing sounds from the natural world that provide a harmonious accompaniment for waking up or drifting off to sleep. Choose from crisp, digital recreations of the undersea world, waves, mountain brook, rainfall or birdsong to suit your mood.
The big, bright, easy-to-read LCD offers a cool, soothing blue backlight: there's a 4-way brightness control for comfortable viewing at any time of day or night.
There's also a thermometer that displays ambient temperature in your bedroom. It's a valuable way to check that you've got the heating set correctly and all set for a peaceful night's sleep.
No power? No problem. Even if it's unplugged or there's a temporary power failure, a battery back-up ensures that you'll still wake up at the right time.
The new ICF-C717PJ clock radio from Sony is available from April 2010.