First resident opens boardwalk at Priory Mews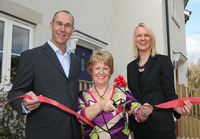 The brand new boardwalk at Priory Mews in Christchurch has been officially opened by the development's first resident Heather Jewitt.

The Orchard Homes development in the heart of the town is now completed with just four Mews Houses remaining and the boardwalk opening is a key milestone in work at Priory Mews which provides a range of homes around a central courtyard setting.

The boardwalk links Castle Street with the historic Ducking Stool Lane which provides an attractive walk alongside the Mill Stream, part of the River Avon.

"Construction work has now finished at Priory Mews with the final homes now complete and ready for occupation, we are delighted to officially open this boardwalk,'' said Orchard Homes sales director Spencer Drake.

Heather is a big fan of her new home and says the development is wonderfully situated alongside the Mill Stream which fronts onto the new boardwalk.

"I'm a real perfectionist and wanted a pristine new home and this really fits the bill,'' said Heather "I love living here and am delighted to have found something in the heart of Christchurch which meets all my requirements".

The gated development comprises just 17 new homes, all traditionally built and finished to the highest standards and with only four remaining an early viewing is strongly recommended to avoid disappointment.

The show home is open seven days a week from 10am until 5pm with prices starting from just 449,950.