Formula One drivers wish Gulf Air 'Happy Birthday'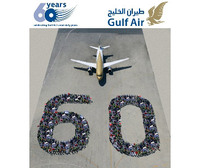 Celebrity Formula One drivers sent birthday wishes to Gulf Air, the national carrier of the Kingdom and the title sponsor of Bahrain Grand Prix since 2004, on the airline's 60th anniversary falling on 24 March 2010.

International Formula One heroes such as Fernando Alonso, Nico Rosberg, Felipe Massa, Michael Schumacher, Lewis Hamilton, Jenson Button, Sebastian Vettel and Mark Webber, who were in Bahrain for the 2010 Formula1 Gulf Air Bahrain Grand Prix, signed a huge "Birthday Card" and presented to the airline's management.

The occasion bears a special significance for both Gulf Air and Formula One as the two entities were born at the same time sixty years ago. The 60th anniversary is also significant recognition for Bahrain globally as the country brought the two enterprises together to celebrate the historic occasion.

The airline has been receiving hundreds of birthday greetings from trade partners and well-wishers from across the globe.

It was on 24 March 1950 Gulf Aviation Company, the predecessor to Gulf Air, was officially registered as a private shareholding company by a Scottish aviator and dreamer, Freddie Bosworth, with funding from a group of visionary Bahraini businessmen to establish the airline as a commercial enterprise.