Gulf Air celebrates 60th anniversary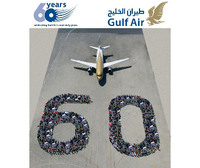 Sixty years ago (24 March), Gulf Air began its life as Gulf Aviation company, operating scheduled commercial services. The first flight, an Avro Anson seven-seater aircraft, took off from Bahrain to Sharjah via Doha and the fare was Rupees 130 single (around One BD) and Rupees 220 return (Around 2 BD).

Today Gulf Air is Bahrain's National carrier and one of the aviation industry's most recognisable and respected brands. With its fleet of 35 aircraft, Gulf Air connects 43 cities in 28 countries and has the biggest Middle East network in terms of reach and frequency

Paying tribute to the airline on its anniversary Gulf Air Chairman Mr. Talal Al Zain said: "Over the past six decades, Gulf Air has established itself as one of the leading pioneers in the global aviation industry and a global ambassador for the Kingdom of Bahrain.

"I am confident that the next 60 years will be no different as the airline continues to establish itself as an efficient, commercially sustainable business and a dynamic airline that effectively serves the people and the economy of Bahrain whilst continuing to represent the Kingdom on the world stage.

"I want to congratulate all the staff – past and present, on this special anniversary," he concluded.

Gulf Air CEO Mr. Samer Majali commented, "We have come a long way in 60 years from a small-scale commuter service to the region's most iconic airline and one of the most powerful brands in the global aviation industry. The Golden Falcon is etched in the minds of almost every traveller flying into or out of the region.

"Gulf Air has clearly demonstrated that 'age' is no barrier to enterprise and innovation; the passion for innovation and high quality service for which Gulf Air earned its reputation in the 70s and 80s for its luxurious Tristar–Five star services continues even today.

"While we are proud of our past achievements, we are looking ahead to the next sixty years and beyond with renewed sprit and commitment to serve the people and the economy of Bahrain and represent the Kingdom on the world stage with our new strategy.

"Gulf Air is one of the biggest employers in the country, and also significantly supports the nation's economy by contributing more than Bahraini Dinars 400 million annually (US$1040 m) (2006-2007). The airline also accounts for over 70% of the Bahrain airport's traffic. However what really sets apart airlines today is excellence in quality and service as well as excellent value for our customers on a consistent basis." Mr. Majali concluded.

Gulf Air Chairman, Talal Al Zain and Gulf Air CEO Mr. Samer Majali expressed congratulations and thanks to the Kingdom of Bahrain's leadership, His Majesty King Hamad bin Isa Al Khalifa, His Royal Highness Prince Khalifa bin Salman Al Khalifa, the Prime Minister, and His Royal Highness Prince Salman bin Hamad Al Khalifa, Crown Prince and Deputy Supreme Commander; for their ongoing commitment and support to the airline.

To mark the airline's 60th Anniversary staff and management have come together to launch a number of activities over the week and after to mark this historic occasion. In a show of strength and solidarity behind the airline, hundreds of Gulf Air employees and the management gathered at Bahrain's International Airport's runway to form a human shape of number '60'.

Mr. Majali will also be honouring employees, who have served the company for more than 35 years in a special luncheon ceremony in recognition of their loyal and sincere service to the company.

The airline is also organizing a 'Family Day' this weekend at the Gulf Air Club, where all staff and their family members will gather to celebrate the occasion while their children will be introduced to an evening of interactive and entertaining games and fun.