Vauxhall Antara official support vehicle for Parkour to Paris Challenge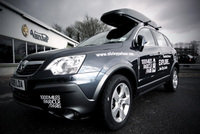 Vauxhall Motors are proud to announce that they are supplying a Vauxhall Antara as Johnny 'Sticky' Budden's official support vehicle for his 1000 miles of Parkour to Paris Challenge.
Beginning his 1000 mile journey in mid April, Johnny, a professional Parkour Practitioner, is aiming to run over a marathon a day. Johnny aims to travel from John O'Groats in Scotland to Parisusing Parkour to overcome any obstacles in his way, starting with an ultra - marathon of 100 miles in one day.
Parkour: A sport or athletic activity in which the participant seeks to move quickly and fluidly through an area, often an urban locale, by surmounting obstacles such as walls and railings and leaping across open spaces, as in a stairwell or between buildings.
Whilst Johnny tackles obstacles testing both mental and physical strength and endurance, the Vauxhall Antara will be used to store all nutrition, navigate the journey and will aid Johnny in exploring both the city limits and remote areas of countryside.
"Having worked with Vauxhall before, doing a series of underground Parkour workshops, it's great to be working with them again" says Johnny 'Sticky Budden. "The Vauxhall Antara will be perfect as a support vehicle and I have no doubts it will rise to the occasion – I'm very jealous of the support driver!"
With the value placed upon body movement and agility in Parkour, Johnny's 1000 miles of Parkour to Paris Challenge is in aid of Motor Neurone Disease, with Johnny recognising this as an extremely serious cause.
To find out more about the 1000 miles of Parkour to Paris Challenge or to donate visit: stickyparkour.com.