The world's best horse racing events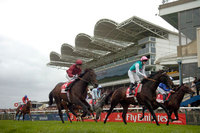 In the lead up to Britain's beloved Grand National on the 10th April, STA Travel has mapped the world's best horse racing events, galloping between some of the planet's most impressive destinations.
Rome, Italy - Derby Italiano, early May
The first Derby Italiano was run in 1884 and was the Italian answer to England's Epsom Derby. The Capannelle race course in Rome has a capacity of 20,000 visitors and draws the biggest crowds, as punters yearn to see the next Ribot, possibly the greatest racehorse of all time, who was triumphant many times there. And being held in stylish Italy, you can bet your last Euro there'll be some refined fashionistas amongst the throngs.

Rome is picturesque, in vogue and the many historical sites make it truly spectacular. Cruise from shop to coffee house to awe-inspiring sight, while you explore the city, Italiano style. If you want to get a little culture and history outside the racecourse, the three hour 'Ancient and Old Rome' tour might interest you. The experienced guides will not only educate you in history, culture and politics, but they'll also make the life and times of ancient Rome come to life.
• Flights to Rome from £140
• Ancient and Old Rome tour, half day, from £22

Toronto, Canada - Queens Plate, July 4th 2010

Toronto is host to many horse racing events each year, but if you want to experience Canada's most prestigious example, the Queen's Plate is well worth attending. Experience the colour and ceremony at this mile and a quarter Canadian classic - the first jewel in Canada's Triple Crown of Racing.

When you're all 'raced out' STA Travel recommends the top things to see and do in Toronto: the Hockey Hall of Fame, the Ontario Science Centre, the Metro Zoo and Lake Ontario.

• Flights to Toronto from £459

Cape Town, South Africa - Durban July Handicap, July 31st 2010

South Africa's greatest horse race, both in terms of the quality of past winners and the excitement that surrounds the race, is the Durban July Handicap, aka 'The July'. It is held annually on the first Saturday of July (to be held on the last Saturday this year to avoid a clash with the World Cup – why not tag the races on to the end of the World Cup for an all round sporting adventure?) and is guaranteed to capture the attention of the entire nation, and pull in lots of bets!

Cape Town is famed for its life-changing sunsets atop Table Mountain and the wildlife that abounds throughout South Africa. STA Travel's South Africa Sojourn will take you through South Africa, Mozambique and Swaziland, taking in the best of what the region has to offer – wildlife, culture and adventure. Ideal for those who love the great outdoors, enjoy the beaches, want to feel the Latin buzz of Mozambique and to explore one of the world's more cosmopolitan cities, Cape Town!

• Flights to Cape Town from £609
• South African Sojourn, 24 days, from £1409

Paris, France - Prix de l'Arc de Triumph, October 3rd 2010

"Not so much a race as a monument" was a slogan first used for the event in 2003. The event popularly referred to as the "Arc" is the most prestigious horse race in Europe and one of the most renowned international events in any sport.

Paris ishome to the Eiffel Tower, froggie-legged treats, berets and so much more. STA Travel offers the unbeatable 'Paris Pass' for those who want to get the run of the world's sexiest sites and see the real Paris. Choose from two, four or six days of sightseeing, then you're able to follow your whim, travel the subway and buses for free and take in the city's most sensational sights, as well as getting deals galore at some great restaurants.

• Eurostar to Paris from £69
• The Paris Pass, 2 days, allows free public transport, free sightseeing and restaurant deals, from £80

Melbourne, Australia - The Melbourne Cup, November 2nd 2010

The Melbourne Cup was born following the quest of the Victoria Turf Club to put on a "good handicap" which would rival its counterpart, the Victoria Jockey Club. While 1860s racing administrators were enthusiastic and visionary, not in their wildest dreams would they have thought the Cup would become the spectacle that we know today.

As any Melbournian will tell you, Sydney has the looks, but Melbourne's got the personality. Australia's second biggest city and cultural capital is the kind of place where you'll stumble upon your next adventure rather than read about it in a guide book. It's full of hidden laneways, bars, an exciting music scene and great coffee. Aside from the world-renowned Melbourne Cup, the city has a peculiar local fascination with sport of all kinds, including tennis and Formula One racing.

• Flights to Melbourne from £589

Hanshin, Japan - The Japan Cup, November 28th 2010

The Japan Cup is the most prestigious horse race run in the country. It was established as an international race in order for local racehorses to have the opportunity to compete against horses of an international calibre and to promote goodwill within the racing community worldwide.

Japan's capital is the perfect place for those who want to explore the chaos, glamour and fun of an electrifying metropolis. For those who want to spend some time relaxing and seeing the natural side of Japan, STA Travel offers a spectacular 'Discover Japan' 14 day trip. From Tokyo to Takayama, through Hiroshina, Nagasaki, Kyoto, Himeji, Kawaguchiko to Mount Fuji, this is a trip that will leave you feeling as though you've really seen Japan.

• Flights to Tokyo from £499
• Discover Japan trip, 14 days, from £1,949

Hong Kong, China - The Cathay Pacific Hong Kong Cup, December 12th 2010

The Cathay Pacific Hong Kong Cup is the richest race in the world, with a prize pool of about one and half million pounds. The purse for the race is 12 times higher than when the race was first run 15 years ago.

STA Travel has come up with a tour that will help even the most experienced travellers get to grips with the inspirational towering city of Hong Kong, when they fancy a break from the races. The 'Hong Kong Island Tour' takes you to Stanley Markets for fishing lanes and to see Chinese artwork galore, to Aberdeen Fishing Village, Repulse Bay Beach and Victoria Peak for fabulous city views.

• Flights to Hong Kong from £429
• Hong Kong Island tour, half day, from £21

Auckland, New Zealand - Auckland Cup Week, March 6th-13th March 2011

Horse racing is a popular sport in New Zealand, and who can imagine a paradise more perfect to watch magnificent thoroughbred horses at their best?

If you want to spend some time away from the track but remain at high speed, why not spend a day sailing on the Pacific. STA Travel provides an opportunity to experience an exhilarating ride aboard an impressive catamaran, whilst cruising the stunning Bay Islands. The catamaran is capable of speeds in excess of 30 knots, and might be your best chance of getting close to the speed of a jockey on horseback.

• Flights to Auckland from £665
• On the Edge Day Sail in the Bay, one day, from £56

Dubai - Dubai World Cup, March 23rd-29th 2011

As 11 of the world's leading thoroughbreds stepped onto Dubai's refurbished Nad Al-Sheba racecourse in March 1996, one of racing's most ambitious dreams came true. The brainchild of HH Sheikh Mohammed bin Rashid Al Maktoum, UAE Vice President, Prime Minister and Ruler of Dubai, the Dubai World Cup is a fitting tribute to his love of horses and of horseracing. The initial Dubai World Cup race meeting put the United Arab Emirates on the map, as it has become the home of one of the world's top racing challenges, and has drawn the attention of millions of enthusiasts from around the globe.

If you want to get away from the action at the races, STA Travel will take you on a Dubai City Tour for just £22.

• Flights to Dubai from £349
• Dubai City Tour from £22
For information on all STA Travel products, visit: statravel.co.uk