Gulf Air and Jet Airways enter codeshare agreement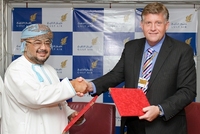 National carrier Gulf Air has entered into a codeshare agreement with Jet Airways, India's premier international airline enhancing network connectivity on services between Bahrain and India.

The agreement comes into effect from 12 April 2010.

As per the agreement, Gulf Air will place its flight code on Jet Airways' daily services between Mumbai and Bahrain while Jet Airways will place its flight code on all Gulf Air-operated flights between Bahrain and Mumbai, Delhi, Chennai, Kochi and Thiruvananthapuram.

Mr. Samer Majali, Gulf Air CEO commented, "The codeshare agreement with Jet Airways will enable both carriers to further leverage their respective networks, offering passengers enhanced connectivity, seamless transfers between flights, baggage checked-through to their final destination and a host of other benefits including the fastest and most frequent access to the Middle East region."

"This agreement makes commercial sense for both carriers to achieve further revenue synergies by utilizing each other's leadership position in their respective market niches," he concluded.

According to Mr. Nikos Kardassis, CEO, Jet Airways, "Jet Airways is delighted to enter into a codeshare agreement with Gulf Air, one of the most respected carriers in the Gulf. Besides offering enhanced connectivity to Bahrain from several cities in India, the agreement will also enable our guests from Bahrain to tap into our unmatched domestic network, besides complimenting our existing frequent flyer partnership."

Jet Airways currently flies to 42 domestic destinations that span the length and breadth of India, and 22 destinations across North America, Europe, Asia and the Gulf, including New York (both JFK and Newark), Toronto, Brussels, London (Heathrow), Hong Kong, Singapore, Kuala Lumpur, Colombo, Bangkok, Kathmandu, Dhaka, Kuwait, Bahrain, Muscat, Doha, Abu Dhabi, Dubai, Jeddah, Sharjah, Dammam and Riyadh, from several cities in India.

Gulf Air currently operates the largest network in the Middle East with non-stop flights while providing seamless onward connections to other international destinations. The airline's current network stretches from Europe to Asia, connecting 43 cities in 28 countries, with a fleet of 35 aircraft.