Chevrolet Spark Unscheduled Tour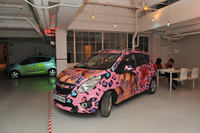 Last night Chevrolet teamed up with some of the UK's hottest music, design and style talents to stage a live music experience like no other.
Thousands of hopefuls applied online for a free ticket to the exclusive launch event of the Chevrolet Spark Unscheduled Tour held at the Vinyl Factory in London's Soho. Lucky guests were treated to a live preview of the Mystery Jets eagerly anticipated third album due to be released in June, with customised cars and some of the hottest names around on the decks.
Guests were greeted by the Chevrolet Spark DJ car, the world's first fully functioning car DJ booth, which features throughout the tour. Guests also had the chance to graffiti a Chevrolet Spark which was on display, using a digital spray can, choosing from a choice of over 56 colours, spraying infrared light on the screen giving the same effect as spraying real paint on a wall.
Cult nail salon, WAH Nails, set up by Sharmadean Reid hosting their very own 'nail-car', where guests were treated to an exclusive free session from one of the fashion world's leading fingertip artists.
During the night party goers were warmed up by the Merok Wrecking Crew and treated to stylish spinning from Nick Grimshaw who played a super-hot set, hotly followed by Jack Peñatewho certainly got the crowd going in the lead up to the Mystery Jets playing their live set. Bullion then finished off the night providing the perfect party soundtrack.
International Grammy-Award nominated singer Robyn, famed for her success with the global hit 'With Every Heartbeat', partied hard with fellow pop star Coco Sumner. The pair were in good company dancing to the sounds of the Mystery Jets, fresh from supporting the Arctic Monkeys in Europe.
Adding to the light theme, ISO Kate Moross, Jack Featherstone and Hans Lo created a series of six light installations in their own signature style, which bathed the band in colour containing the Chevrolet Spark Unscheduled Tour logo decal.
Following last night's launch event members of the public will be asked to vote for where they'd like the tour to go to next from a selection of cities and unique venues. Cities to choose from include Birmingham, Manchester, Liverpool, Newcastle, Brighton, Edinburgh and Bristol with venues ranging from a drained swimming pool and multi-story car park to an old picture house and ferry across the Mersey. A 'pop up' gig will take place every two weeks throughout April to June.
The Chevrolet Spark Unscheduled Tour is FREE invite-only event visit - sparkunscheduled.co.uk for more information on how to bring the tour to your area and win an exclusive ticket.
Please visit sparkunscheduled.co.uk to check out pictures from the vent and to view the event video (coming very soon!).