Scudo and Fiorino scoop top honours at iVan Awards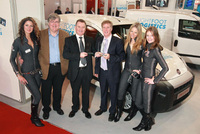 Two more top honours have been handed to Fiat Professional UK as the company's vans continue to boost its trophy cabinet.
Latest recognition of Fiat Professional vehicles came yesterday (13 April) at the iVan Awards 2010, held during the Commercial Vehicle Operator Show, in Birmingham's NEC. Fiat's Scudo won the Best Compact Van category while the Fiat Fiorino scooped the Best Light Van honour.
"It's always a pleasure to receive an award for one of our vans, so to be able to accept two was a great honour," says Gerry Clarke, director, Fiat Professional, who received the trophies from iVan editor John Fife.
"It's a tribute to Fiat Professional and its wonderful range of vehicles that we continue to be in the running for CV industry accolades and long may that continue. The vans certainly deserve their recognition."
Developed as part of a long term partnership between Fiat and PSA and built in the Sevel Nord plant, France, the Fiat Scudo is designed for Europe's busy towns and cities. A big carrying capacity, ease of loading and unloading, choice of cargo space and top safety features are among the attributes highlighted by the iVan judges.
Powered by a choice of three common rail diesel engines – a 1.6-litre developing 90bhp, and a 2.0-litre available with 120 or 140bhp – Scudo prices start at £14,965 (basic price) for the Business 1.6 MultiJet.
The Fiorino is also part of the Fiat and PSA joint venture and is manufactured at the Tofas plant in Bursa, Turkey. Designed to be operated efficiently in crowded city streets, it has proved a great success with small business owners.
Powered by a choice of engines – 73 bhp 1.4 petrol and 75 bhp 1.3 MultiJet turbodiesel – the Fiorino provides safe, comfortable and economical motoring. Prices start at £9,085 (basic price) for the 1.4 8v Petrol.
"Our awards are chosen by both fleet and retail customers and in choosing two Fiat vans it's obvious that the Fiat Professional range is striking a chord with both types of users," says John Fife. "The Fiorino was chosen due largely to its driveability and ingenious use of space, while the Scudo scored high marks for its storage and excellent load capacity."