'Excellent' rating for Gulf air cabin crew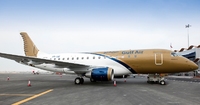 Gulf Air, the National carrier of the Kingdom of Bahrain, today announced the results of its 2009 customer satisfaction survey, which saw the airline's overall satisfaction ratings increase by 8% from 2008 and its cabin crew rated as excellent.

The independent survey carried out by the global airline industry's governing body IATA, surveyed more than 20,000 passengers over a one year period.

The survey assessed passengers' satisfaction in various aspects of their overall travel experience such as booking tickets, aircraft cleanliness, attitude and friendliness of cabin staff, availability of newspapers and magazines, efficiency of check-in and boarding, grooming and appearance of cabin staff, handling of delays and cancellations, in-flight entertainment selection, and many other factors that affect the overall customer experience. It also assessed customer satisfaction across various categories for business class, first class and frequent flyers.

The survey found that 91% of respondents rated their satisfaction of the airline as good or higher, an 8% increase on 2008, with 38% saying very good and 19% excellent.

Individual service ratings for the airline were also positive with the top rating score of "excellence" given to cabin crew. This was followed by good check-in experience and food and beverage. When asked to identify areas for improvement, customers suggested in-flight entertainment and overall cabin features.

The study also identified travel agencies as the most popular booking channel with 62% of respondents preferring the traditional booking method. In second place was internet bookings with 16% preferring this option, a 3% increase on 2008, a trend that is expected to continue as online access and e-booking continue grow.

Key findings in the study also revealed that the airline's main passenger volume in 2008 came from the business travel segment followed by holiday and, visiting friends and relatives (VFR) travel segments. Respondents were also questioned on their reasons for choosing the airline. For business and first class passengers the survey found that their decisions were based, first and foremost, on their previous travel experiences, followed by the flight schedule and the airline's frequent flyer program. Economy passengers based their choice on primarily the cost of the fare followed by value-for-money and flight schedule.

"The information we receive through this survey is critical to Gulf Air's efforts toward continuous improvement. We want to thank everyone who participated - the opinions of our passengers are important and they provide valuable insight into their opinions and preferences," said Gulf Air CEO Mr. Samer Majali.

"A key part of our new strategy is focused on the needs and demands of our customers, without them we don't have a business. As the survey illustrated scheduling and value for money are of paramount importance to our passengers it is essential that we reflect their needs and aspirations. Our new strategy does. We are creating more value for money, offering a targeted more focused regional and international network, a superior and more consistent product and a modern, more efficient fleet. With ten new aircraft already in service - eight Airbus A320's and two Embraer E170 AR regional jets - and another four new aircraft joining the fleet this year, our customers will have more options to fly on our brand new fleet and enjoy its latest livery and service. Besides, these aircraft gives us the flexibility and opportunity to increase our frequency, improve our schedule whilst expanding our regional network" he concluded.