Highland photography courses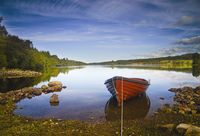 A Highland hotel is offering amateur photographers the opportunity to hone their snapping skills in some of the most spectacular surroundings in Europe.

In July and October, The Lovat, Loch Ness at Fort Augustus is running a selection of two and three-day photography courses aimed at the enthusiastic amateur who is looking to improve their art.

With the help of the professional team at Nevispix Photography, guests will learn, for example, how to adjust exposure, eliminate camera shake and shoot truly creative compositions before putting lessons into action against some of the country's most beautiful backdrops.

Based in a recently refurbished Victorian building set at one end of the infamous Loch Ness overlooking the Caledonian Canal, and the gateway to the Great Glen, The Lovat offers easy access to a wide range of spectacular landscapes, from scenic streams, crystal clear lochs, majestic mountains and rugged moorland to imposing castles, unspoilt beaches, wonderful waterways and perilous peaks.

With the hotel operating an eco-conscious ethos, which encompasses waste management, energy efficiency and carbon offsetting, photography courses at The Lovat offer a truly unique opportunity for nature loving shutterbugs to indulge their creative cravings in confidence.

The Lovat, which uses only degradable cleaning products and is heated by a revolutionary biomass wood chip burner, also makes a carbon conscious donation to charity Trees for Life for every room booked on the premises in an effort to offset each visitor's travel footprint.

In addition to photography courses, a stay at The Lovat offers guests the opportunity to indulge in a number of outdoor pursuits, from sea kayaking to canyoning, bike rides to horse rides or walking to wildlife watching.

The Lovat offers a true taste of Highland hospitality combined with the perfect setting for picture taking – and photography courses at The Lovat are an excellent way to sample both in eco-conscious comfort.

- Summer photography breaks (3rd-5th July) start from £436.50 per person for a two day course.
- Autumn photography breaks (4th-8th and 18th-22nd October) start from £556 per person for a three day course.
- Above prices based on two photographers sharing, including accommodation and meals.

For further information visit thelovat.com and nevispix.com.